"I was driving by while on other business and heard an explosion. I stopped and saw that a crowd of people had begun gathering near the college. I approached to see what was going on. There was already a lot of law enforcement agencies, ambulances, traffic police, military personnel, firefighters… They carried away the victims," witness Alexander told Sputnik.
"There was no central entrance, it was taken out, and there were no windows on the first floor. Now, various rumors are circulating about what happened, whether it was a terrorist attack or gas explosion. There is plenty of evidence that it was not gas, but rather an explosive device," Alexander added.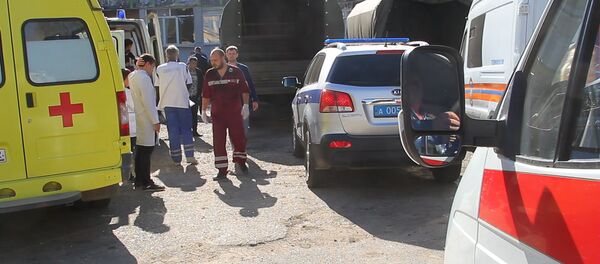 17 October 2018, 09:45 GMT
Speaking to Sputnik Government of the Republic of Crimea, Deputy Head of the Administration of the City of Kerch, Dilyaver Melgaziev said that a task group is working at the scene.
"It will be possible to say something once the mission has been completed. We've taken all the necessary measures. Ambulances are ready, health care institutions are ready, social workers and psychologists are all in place. The administration's emergency response team has been deployed. Everything that's necessary under the priority plan has been done," Dilyaver Melgaziev said.
According to the Russian Investigative Committee, the death toll in the deadly blast in the Kerch college has risen to 17. Up to 50 people were injured. The local website Krech.com.ru reports that the explosion occurred on the first floor and the shooting took place on the second.
READ MORE: Blast at College in Crimea's Kerch is Terrorist Attack — Russia's Investigators
"Five minutes after I left, some people burst in. They blew up the lobby, all the windows were shattered. They were running around throwing firecrackers. Then, armed with assault rifles, they were running around the second floor, opening doors to the classrooms and killing everyone who came their way… a real terrorist attack! Like in Beslan! I would have been dead by now because they shot dead all my people, children and the staff… I don't know," Olga Grebennikova, college director told Krech.com.ru.
Earlier, local television network Kerch TV interviewed an eyewitness who ran to the college building after hearing an explosion. He shared what he saw in the aftermath of the incident.
Q: How many people were hurt?
A: More than 30
Q: More than 30? Where are they? I only saw four ambulances
A: We were using public transport, buses, fixed route taxi-vans and loaded 2-3 people in each ambulance.
Q: Were there [college] employees, students among those injured?
A: Both employees and students
Q: What happened there?
A: A pop and gunshots
Q: Gunshots? Were there armed men?
A: I have no idea. I heard it and I ran here.
Q: And what did you see?
A: People with arms and legs ripped off
Q: Could it have been [a] gas [explosion]? Maybe they threw something in?
A: I don't think so. It must have been gunfire.
Q: Where did it happen? On the ground floor? In any specific room?
A: There [on the ground floor] was an explosion and on the first floor…
Q: Were there gunshots?
A:…There were dead people
Q: What time did it happen? Around 12:00?
A: 40 minutes ago. May be 13:00.
Q: Could we specify something? Did the explosion happen on the ground floor?
A: I was there [in the distance]
Q: Are you a [college] employee?
A: No
Q: Do you work somewhere nearby?
A: I work as a cook [in a facility] nearby
Q: And you heard an explosion and ran here? Did you see broken windows, this entire scene?
A: Well the place has been cleaned up now, but there were people lying with arms and legs ripped off
Q: Outside?
A: Yes, outside. Around 30 people.
Q: Were they unconscious?
A: No, they were conscious, shocked
Q: Were some of them dead?
A: Those who were dead are still lying there
Q: Were those passing-by helping anyone?
A: Yes, everybody who could was helping
Russia's Investigative Committee opened a criminal case under article 205 of the Russian Criminal Code (terrorism).