"For us, it's most important that the summit level meetings are happening. It doesn't matter where. It is really up to their convenience. We're open," Tsogtbaatar said on the sidelines of the annual meeting of the Valdai Discussion Club in the Russian resort city of Sochi.
The minister emphasized that Mongolia's priority was to ensure that the dialogue on the Korean peace settlement continued.
"What I am really trying to say is that irrespective of the fact whether the meeting happens in Mongolia or not, our primary goal is to contribute to the continuation of the dialogue," Tsogtbaatar said.
READ MORE: Time to Think About Easing North Korea Sanctions — Russian Envoy to UN
Earlier in the day, he told Sputnik that Mongolia is inviting the North Korean leader, Kim Jong-un, to visit the country to commemorate the anniversary of the establishment of the diplomatic relations between the two states.
"Indeed our president [Khaltmaagiin Battulga] is inviting the great leader to Mongolia. The thing is that this year we are commemorating jointly the 70th anniversary of our diplomatic relationship … Our relationship has been a very long, traditionally friendly, mutually understanding relationship. In the context of this 70th anniversary, we are inviting the great leader," Tsogtbaatar said.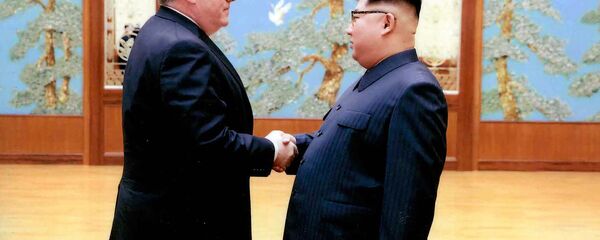 9 October 2018, 18:32 GMT
Mongolia and Singapore were on a shortlist of locations to host the historic June summit between Trump and Kim, but the leaders ended up picking the latter.
During their historic summit in Singapore, Trump and Kim agreed that Pyongyang would give up its nuclear aspirations in exchange for sanctions relief and suspension of US-South Korean joint war games.
However, the settlement progress has weakened over the past months. Earlier in October, Trump said discussions were underway to prepare for his second meeting with Kim, but no concrete date was announced.