"There is no doubt that the Saudi regime has a long proven contempt for human rights and this isn't something that should come as a surprise; in some respects, this latest incident is just exposing the hypocrisy of governments that have supported the Saudi regime for decades and decades," Smith argued.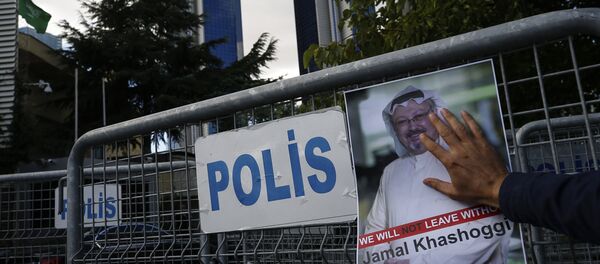 17 October 2018, 08:59 GMT
He added that the driving force of the relationship between the United Kingdom and Saudi Arabia were multimillion-dollar arms deals that Riyadh needs for its intervention in the Yemeni civil war.
"This has been catastrophic, it has been catastrophic for Saudi people and for people in Yemen. We know that when the Saudi Crown Prince was in London in February he got the red carpet treatment. He got visits to Buckingham Palace, visits to Downing Street and dinner with Prince William and so on. We know when that visit took place a large part of it was about arms deals," Smith indicated.
READ MORE: Turkish Foreign Minister Says Discussed Missing Saudi Journalist With Pompeo
Smith said he believed that the UK government was unlikely to deliver a tough response to the case since it would meet the opposition of government ministers and major arms companies.
"Ultimately they have for decades prioritized arms exports ahead of human rights and prioritized arms company profits ahead of the lives of Saudi and Yemeni people as well," Smith stressed.
According to Smith, the only positive development that the case might take would be the increased attention of the international community to Saudi Arabia's poor human rights record.
"I think that if any good can come out of this scenario it's that it has finally drawn attention to the terrible human rights abuses that are taking place. The Saudi regime has had an appalling human rights record, including inflicting abuses against journalists," Smith pointed out.
READ MORE: G7 FMs Call for Punishing Everyone Responsible for Khashoggi Disappearance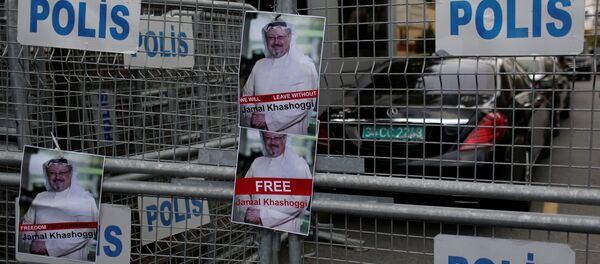 17 October 2018, 07:52 GMT
According to information provided by the CAAT, the United Kingdom has licensed arms worth almost 5 billion pounds ($6.6 billion) to Saudi Arabia since March 2015. The anti-arms group has repeatedly criticized the UK for delivering arms to the kingdom, stressing that it made London complicit in Riyadh's human rights abuses, and called on the government to halt arms supplies to Gulf states.
Khashoggi, a Washington Post columnist, went missing on October 2. He was last seen entering the Saudi Consulate General in Istanbul where he went to receive papers he needed to remarry. Turkey has expressed concerns that Khashoggi could have been murdered inside the building, while the Saudi government has denied involvement in the case, claiming that the journalist disappeared after he left the consulate.
The views and opinions expressed by the speaker do not necessarily reflect those of Sputnik.