"I want to find out what happened, where is the fault. And we will probably know that by the end of the week," Trump told reporters at the White House.
He refused to reveal whether the United States sent the Federal Bureau of Investigation (FBI) agents to work on the ground in Turkey. Yet, Trump noted that Khashoggi was not an American citizen thus the US government would not have to involve the FBI in the investigation.
READ MORE: Trump Draws Parallels Between Kavanaugh, Khashoggi Cases
The president added as soon as Secretary of State Mike Pompeo comes back from trips to Saudi Arabia and Turkey late tonight or Thursday morning, he will provide a full report covering both visits.
Trump stood by his earlier statements calling Saudi Arabia a valuable partner of the United States in the Middle East. He said there is no reason so far to halt a $110 billion arms deal with the Saudis.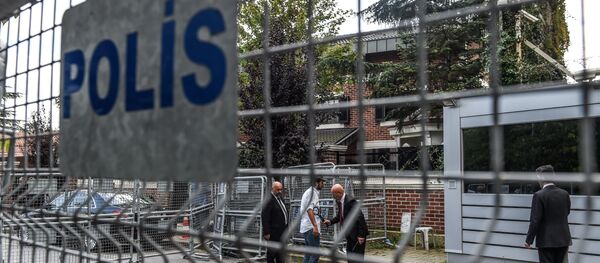 16 October 2018, 13:42 GMT
Khashoggi, a Washington Post columnist known for his criticism of Saudi Arabia's policies, went missing on October 2. He was last seen entering the Saudi consulate in Istanbul, where he went in order to obtain documents necessary for his marriage.
The Washington Post reported that Turkey had informed US officials about audio and video recordings suggesting that the journalist had been murdered in the Saudi consulate, while Riyadh has denied any involvement in Khashoggi's disappearance.