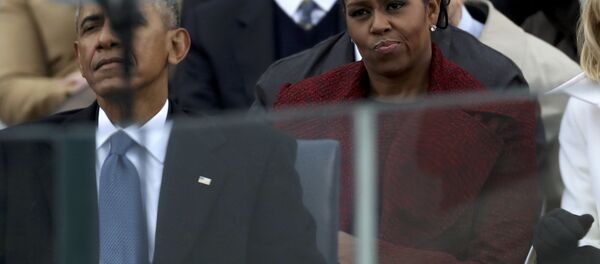 12 October 2018, 01:25 GMT
When asked on air who he thought the Democrats should nominate in the next couple of years to challenge Donald Trump, 64-year-old Moore, who was there to promote his recently released but not very successful movie Fahrenheit 11/9, stressed the blues "need to run a beloved American, someone people want to vote for."
He further went on to mention media executive and actress Oprah Winfrey, former First Lady Michelle Obama and actor Tom Hanks, who he said he had already asked "twice to run."
"Who doesn't like Tom Hanks? Nobody, right? Tom Hanks would win. I said you're the only one that can save us. Maybe Michelle Obama, everyone loves Michelle Obama," Moore remarked, however adding that sadly, Hanks has more than once turned down the idea of entering politics. Mrs. Obama and Winfrey have also reportedly expressed unwillingness to get involved in political issues.
The news has sparked loads of irony on Twitter, with one user even suggesting that the journalist who penned a respective article on Indy100would be better off finding another occupation:
Another weighed in with a career suggestion for Moore:
A different user rushed to estimate the proposed "candidates'" intelligence, adding Mrs. Obama is virtually even more "involved' than Mike Pence, "since he wasted money on a plane ride to a football game."
Another one chimed in stressing a government should not be an analogy of a "gas station," providing employment to anyone whatsoever, irrespective of education and work experience.
Many chose to give it all a hearty laugh, though:
Some even lashed out at Moore, claiming he is merely demonstrating #TrumpDerangementSyndrome.
According to another man, the proposed choices point to a group of Dems and their supporters, including Moore, being far from politics themselves, which in turn signals Donald Trump's confident dominance in the political arena.
Last year, Moore while speaking to the audience of The View suggested that senator Al Franken, whose reputation is now marred by sexual misconduct allegations, should run.