A total of three US nationals were wounded Thursday after a Taliban sympathizer dressed himself as a member of the Afghan security forces and opened fire at the residence of the governor of Afghanistan's Kandahar province. US Gen. Austin Miller, who was at the compound, was not injured during the incident.
However, Kandahar Police Chief Abdul Razik and Intelligence Chief Abdul Mohmin were pronounced dead at the scene. Kandahar's provincial governor, Zalmay Wesa, later died of his injuries at the hospital.
​"[It] shows that the Taliban is becoming more and more brazen by attacking the government and the United States and its allies," Kuzmarov told Radio Sputnik's Loud & Clear, before noting that many Afghans view the Afghan government as illegitimate, since the total vote figures from the election that brought it to power were never announced.
Afghanistan's head of state, President Ashraf Ghanii, initially lost in the national election that took place in 2014 before he was given the title. With allegations of electoral fraud and threats of violence swirling over elections, it was a three-month audit process that was supported by the US government that led to Ghanii being pronounced the Afghan president.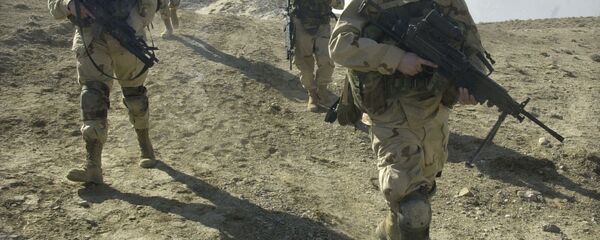 12 October 2018, 13:09 GMT
"Many view Ashraf Ghanii, the head of state, as an outsider," Kuzmarov told host Brian Becker. "I think the government in Afghanistan has been beset by problems and is extremely unpopular in the country… the country is really in chaos, and I think that the Taliban is using the opportunity to strike and infiltrate the government."
Earlier this year, Afghan authorities announced that they were ready to begin holding direct talks with Taliban officials that would have no preconditions, albeit with negotiations being held "within the framework of the Afghan constitution."
"We are ready for any direct dialogue, meetings with the Taliban, we are ready to listen to their demands and express our opinion on this matter," Mohammed Ibrahim Tamil, Afghanistan's deputy presidential special envoy for the Commonwealth of Independent States, told Sputnik in September.
Kuzmarov told Becker that should the Taliban's influence continue to grow and "infiltrate the government," it could become possible that a form of coalition government involving Taliban officials would be established — something some Afghans hope for, he said.