"A US Navy MH-60 Seahawk assigned to Carrier Air Wing (CVW) 5 crashed on the flight deck of the aircraft carrier USS Ronald Reagan (CVN 76) shortly after takeoff at approximately 9:00 a.m. Oct. 19." a statement from the Navy's press service said.
According to media reports, twelve people have been injured in the incident. 
The ship remains fully operational and has resumed flights.
"All injured personnel are in stable condition under evaluation by Ronald Reagan medical staff. While some personnel will be medically evacuated ashore, none of the injuries is life-threatening," the statement continued, adding that "the most seriously injured were medically evacuated off the ship to a hospital in the Philippines."
READ MORE: USS Ronald Reagan Strike Group Embarks for Patrol Mission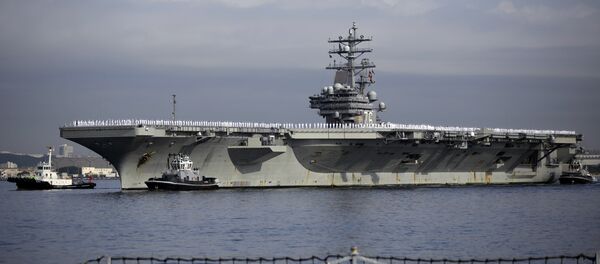 According to the press service, an investigation is underway to clarify the cause of the mishap.
US forces in the Indo-Pacific Command had earlier kicked off a combat training exercise for American troops around the Mariana Islands in the western Pacific.
In August, the USS Ronald Reagan participated in a round of exercises with Japanese Maritime Self-Defense Forces, the second such drills this year.