"We do not seek war. But we must make painfully clear that escalation is a losing proposition for Iran; the Islamic Republic cannot match the United States' military prowess, and we are not afraid to let Iran's leaders know it," Pompeo pointed out.
He cited Trump as saying that the full-fledged pressure on Iran will continue to grow if Tehran "does not live up to the standards the United States and its partners and allies—and the Iranian people themselves—want to see."
"The United States will continue its pressure campaign until Iran demonstrates tangible and sustained shifts in its policies. If Iran makes those shifts, the possibility of a new comprehensive agreement will greatly increase," Pompeo said, in reference to the Iran nuclear deal, also known as the 2015 Joint Comprehensive Plan of Action (JCPOA), which was abandoned by the US in May 2018.
READ MORE: 'I Doubt US Sanctions Will Isolate Iran' — Prof of National Security Affairs
He added that he does not exclude "a deal with the [Iranian President's] regime" but warned that if the accord is not clinched, Tehran "will face increasing costs for all its reckless and violent activity around the world."
Pompeo also noted that Trump wants "US allies and partners on board" when it comes to maintaining the pressure campaign against Iran, which he said has already been welcomed by French President Emmanuel Macron and German Chancellor Angela Merkel.
"This widespread agreement about the Iranian threat leaves no room for countries to remain ambivalent about whether to join the global effort to change Iran's behavior, an effort that is big and getting bigger," Pompeo said.
READ MORE: Iran's Financial Activities Won't Be Heavily Affected by New US Sanctions — CBI
His remarks came after Iranian Foreign Minister Mohammad Javad Zarif described the US's anti-Iranian sanctions as "utter disregard for rule of law and human rights of an entire people."
Earlier, he said that Tehran believes "the world has come to the conclusion that the United States needs to quit its addiction to sanctions."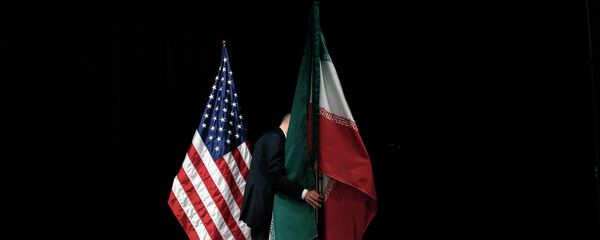 27 September 2018, 11:43 GMT
"The US president and his predecessors have sanctioned us for some 40 years, but with God's grace and the Iranian people's efforts, we have made progress, achieved dignity day by day and endured difficulties," he emphasized.
Separately, Zarif stressed that Tehran had decided to demonstrate its responsibility by remaining in the Iran nuclear deal despite the US withdrawal from the agreement.
On May 8, President Trump said the US was leaving the JCPOA and promised to impose the "highest level" of sanctions on Iran's energy, petrochemical and financial sectors.