Chinese scientists have installed their four monitoring devices in waters located just 300 kilometers (186 miles) off the US's Pacific coast; the hi-tech sensors are connected to the Ocean Network Canada (ONC), operated by the University of Victoria in Canada' British Columbia province, according to the South China Morning Post (SCMP).
The US State Department said that it had "nothing to say" on the reported deployment of the devices which are now fully operational and  were reportedly installed by a remote-controlled submersible owned by the Canadian Coast Guard on June 27.
READ MORE: US Launches WTO Disputes Against Reciprocal Tariffs From China, EU, Canada
The ONC confirmed the installation but declined to elaborate on how these devices might be used.
The SCMP reported that "the devices will help Chinese marine scientists better understand the environment of a strategic waterway close to the US" and that it is unclear whether the Chinese military is involved in the project.
The newspaper recalled in this regard that the Strait of Juan de Fuca remains one of the world's busiest waterways, with the US's two strategic nuclear weapon facilities located across the strait to the south. Naval Base Kitsap is home to a nuclear submarine shipyard, while other facility is capable of accommodating a Nimitz-class aircraft carrier.
READ MORE: US Sees Hope in Trade Talks With Canada, But Content With Just Mexico — Mnuchin
The SCMP cited Chen Hongqiao, a researcher at the Centre for Canadian Studies at Guangdong University of Foreign Studies in Guangzhou, as saying that the reported deployment specifically reflects the sensitivity of the issue.
"Countries don't open them up to third parties unless there is a high level of trust and confidence.  Such collaboration is very unusual. The implications go far beyond science, [so] it could have only happened with a nod from the top on both sides," he underlined.
In late June, Canadian Foreign Minister Chrystia Freeland unveiled the country's response measures to US tariffs, which have led to a major trade row between the two immediate neighbors.
READ MORE: Canada Wants to Stop Cheap Steel Imports Among Trade Row With US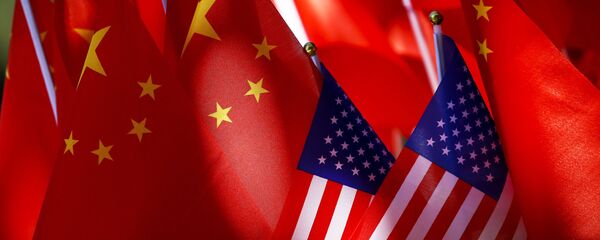 28 September 2018, 15:37 GMT
She announced at the time that Ottawa will impose 10 percent to 25 percent trade tariffs on US goods in response to a similar move made by Washington, beginning July 1.
In another development, the Trump administration has introduced several waves of tariffs worth tens of billions of dollars against Chinese goods since March, in an effort to rebuild the US industrial base. China retaliated with its own tariffs on US goods while insisting that there can be no winners in a trade war.