"The Spanish government expresses its concern with the United States' announcement of its withdrawal from the Intermediate-Range Nuclear Forces Treaty… This treaty… is one of the essential pillars of the Euro-Atlantic system of weapon control and, as such, is a safeguard of peace and security in Europe," the foreign minister's statement said in a statement on Monday.
READ MORE: Macron Stresses Importance of INF Treaty for EU Security in Call With Trump
The foreign ministry's statement came following Trump's announcement made on Saturday that Washington would withdraw from the INF Treaty accusing Russia of violating its terms. As a response to the US president's claims, Kremlin spokesman Dmitry Peskov rejected the accusations, stressing that the scrapping of the INF agreement would force Russia to take measures ensuring its security.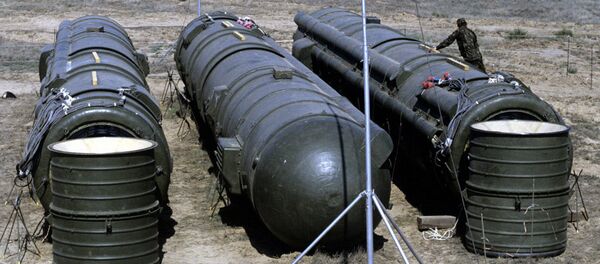 22 October 2018, 11:31 GMT
Peskov also noted that the issue would most probably be raised at a meeting between Russian President Vladimir Putin and US National Security Adviser John Bolton, who arrived in Moscow on Sunday for talks with the Russian leadership.
The landmark arms control treaty was signed by former Soviet President Mikhail Gorbachev and then-US President Ronald Reagan in 1987. The sides agreed to destroy all cruise or ground-launched ballistic missiles that have ranges between 500 and 5,500 kilometers (310 miles and 3,400 miles).