Troops of the Syrian Army successfully recovered an unspecified number of artifacts on Monday, stumbling upon them while searching a building in Palmyra, according to reports.
A military source told Al-Masdar News the artifacts were packaged and ready to be smuggled out of the country but were seemingly abandoned as Daesh terrorists fled their positions as the Syrian Army advanced on the area.
READ MORE: Moscow to Host Exhibition of Artifacts Found in Syrian Terrorist-Held Areas
Daesh seized control of Palmyra in May 2015 during in a largescale blitz offensive, raising concerns over the fate of the city's UNESCO World Heritage site.
Government forces liberated the city and its surroundings in 2016, though Daesh later counterattacked and once again seized control of the area.
A year later, the Syrian Army ousted Daesh from central Syria with Russian support, and government forces have since maintained control over Palmyra.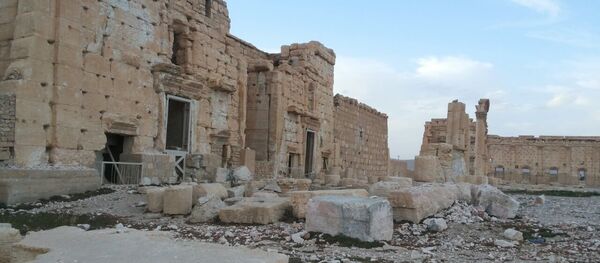 15 August 2018, 19:41 GMT
With Daesh's caliphate now reduced to a few strips of isolated territory, the group no longer pose a threat to the city and its rich history, and Damascus is keen to repair the damage caused to the ancient ruins as it looks to revive the country's tourism sector.
The Syrian government is continuing to search for other looted artifacts and is working with international authorities to recover those which have been smuggled abroad by criminal enterprises.
READ MORE: Russian MoD: Militants Plotted Attacks in Palmyra, Say They Were Trained by US
*Daesh (also known as ISIS/ISIL/Islamic State) is a terrorist group banned in Russia and several other countries.