President Donald Trump said on Monday that he has put the American military and border patrol forces on high alert as a caravan of migrants hoping to gain asylum in the United States moves deeper into Mexico and closer to the US border.
READ MORE: Migrant Caravan Provides Trump Ammunition For Building Border Wall
"Sadly, it looks like Mexico's Police and Military are unable to stop the Caravan heading to the Southern Border of the United States. Criminals and unknown Middle Easterners are mixed in. I have alerted Border Patrol and Military that this is a National Emergy. Must change laws!" Trump said in a Twitter post.
Trump blamed Democrats for hampering attempts to alter immigration laws in another tweet.
Every time you see a Caravan, or people illegally coming, or attempting to come, into our Country illegally, think of and blame the Democrats for not giving us the votes to change our pathetic Immigration Laws! Remember the Midterms! So unfair to those who come in legally.

— Donald J. Trump (@realDonaldTrump) October 22, 2018
Trump also said in a Twitter post that the United States would suspend or decrease assistance to Guatemala, Honduras and El Salvador after the governments of those countries failed to stop a large caravan of migrants from heading toward the US border.
Guatemala, Honduras and El Salvador were not able to do the job of stopping people from leaving their country and coming illegally to the U.S. We will now begin cutting off, or substantially reducing, the massive foreign aid routinely given to them.

— Donald J. Trump (@realDonaldTrump) October 22, 2018
The number of migrants on the Mexican side of the Mexico-Guatemala border has reached 2,000. Hundreds of migrants have reportedly applied for refugee status in Mexico in Ciudad Hidalgo.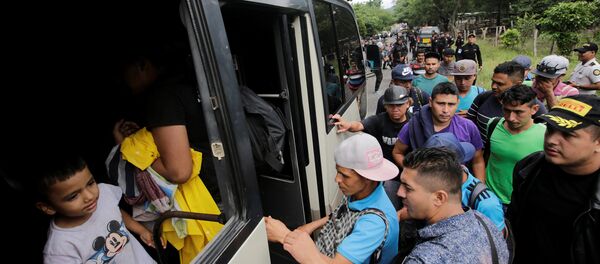 20 October 2018, 05:23 GMT
Mexican authorities initially refused to allow the caravan entry from Guatemala, only processing the asylum requests of small groups, which were monitored by police units, and handing out a limited number of 45-day visitor permits.
Earlier, Mexican authorities said that about 7,000 people, most of them from Honduras, had set out from an area near the Mexican-Guatemalan border for Tapachula in the southern Mexican state of Chiapas.
Mexican federal police have monitored the caravan's progress from helicopters and have escorted it as well.
US Department of Homeland Security Secretary Kirstjen Nielsen noted that her agency was also monitoring the group, and went so far as to suggest that the caravan could be a cover for the activity of transnational criminal organizations.