A pair of US naval vessels sailed through Taiwan Strait in a move that may further exacerbate the already strained relations between Beijing and Washington, with Taiwan's defense ministry claiming that it was in full control of the situation.
"The Ministry of National Defense stressed that the army was in full control when the US warships passed through the seas around Taiwan and has the ability to maintain the security of the seas and the airspace to ensure regional peace and stability," the ministry said in a statement.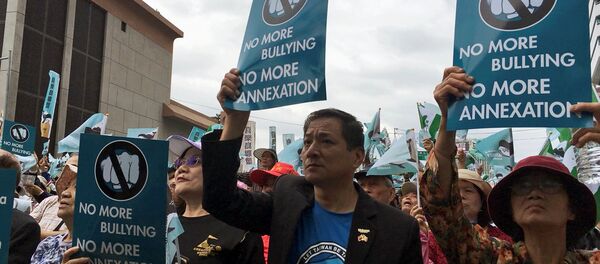 20 October 2018, 19:21 GMT
Commander Nate Christensen, deputy spokesman for US Pacific Fleet, also said that "the ships' transit through the Taiwan Strait demonstrates the US commitment to a free and open Indo-Pacific," adding that "the US Navy will continue to fly, sail and operate anywhere international law allows."
Earlier, Beijing expressed concern over the presence of a US vessel in the Taiwanese port of Kaohsiung and called on Washington and Taipei to stop all military contacts.
The United States, along with many other countries, does not recognize Taiwan as a sovereign nation and officially sticks to the "One China" policy. Despite this, Washington has kept informal relations with the island nation after severing diplomatic ties with it in 1979.
READ MORE: China, ASEAN Nations to Ease Regional Tensions With New Sea Drills Next Week
Over the past several months, relations between Washington and Beijing have sharply deteriorated over trade disagreements. In September, the United States imposed a new round of tariffs on Chinese goods and retaliatory restrictions on US imports to China. This happened amid the further escalating trade dispute which the parties have so far failed to resolve, despite holding numerous consultations.
Trump was the first president since Jimmy Carter to directly speak with the Taiwanese leader, and last year, the US Congress passed the 2018 National Defense Authorization Act which authorized naval cooperation between the US and Taiwanese militaries.