"Sec. Mattis and the president talk a broad range of issues continuously and their position on this particular issue is aligned," Manning said as quoted by The Hill.
On Saturday, Trump said Washington would likely leave the INF treaty because of Russia's continuing violations. Kremlin spokesman Dmitry Peskov said that the withdrawal would force Moscow to take steps to ensure its security.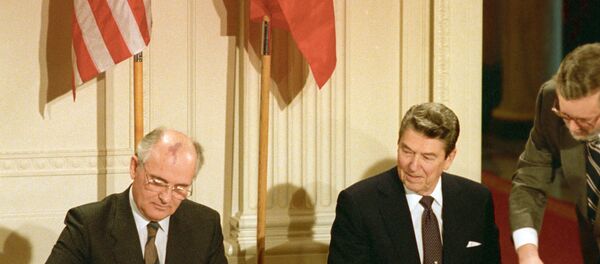 22 October 2018, 18:35 GMT
Over the weekend, US media reported Mattis was unaware of Trump's decision. Manning underlined the secretary is always in contact with the White House.
National Security Adviser John Bolton is currently visiting Moscow and discussing the future of the INF treaty with senior Russian officials.
The INF treaty was signed between the Soviet Union and the United States in December 1987, and required the parties to destroy their ground-launched ballistic and cruise missiles with ranges of between 500 and 5,500 kilometers (from 310 to 3,417 miles). Moscow and Washington have repeatedly accused each other of violating the treaty.
READ MORE: Trump's Picking China as Pretext for Quitting INF is 'Utter Nonsense' – Analyst