India and China signed their biggest ever internal security pact on Monday paving the way for the sharing of intelligence. The pact was signed on the sideline of the first India-China high-level meeting on bilateral security co-operation in New Delhi. The provisions of the pact were finalized by delegations of China and India headed by State Councilor and Minister of Public Security Zhao Kezhi and Minister of Home Affairs Rajnath Singh, respectively.  But what grabbed the attention most was the presence of Kiren Rijiju, a Parliamentarian elected from Arunachal Pradesh which China claims is not part of India but rather Tibet, during the final leg of the talks.  
READ MORE: Tibet Can Remain Part of China — Dalai Lama
As Rijiju holds the crucial position of junior minister for home affairs, he was supposed to be part of the Indian delegation, but his name was conspicuously removed, apparently at the behest of the Chinese delegation led by State Councilor and Minister of Public Security Zhao Kezhi.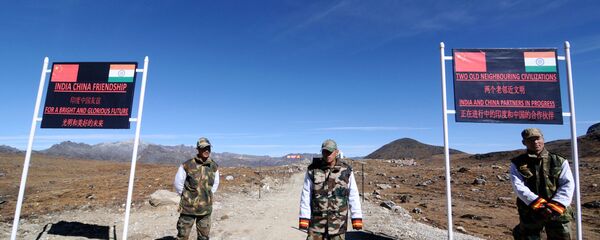 According to an Indian government official, Kiren Rijiju received several calls after the onset of the delegation level talks in North Block building in New Delhi which houses the office of the Ministry of Home Affairs. While Rijiju's office was situated just a few meters away from the meeting hall, he was sitting at his government residence at Krishna Menon road. Soon after receiving a call from the home ministry, Rijiju, who was denied a regular visa by the Chinese authorities over a decade back, rushed to the North Block and attended the meeting, during which the India-China security cooperation agreement was signed.
"The Agreement will further strengthen and consolidate discussions and cooperation in the areas of counter-terrorism, organized crimes, drug control, and other such relevant areas," Rajnath Singh India's Minister of Home Affairs Rajnath Singh said after the meeting.
READ MORE: India to Add Seven More Advanced Airfields Near Border With China
Rajnath Singh who heads India's eight central armed police forces with a combined strength of one million personnel said that India is willing to work with China to implement the important consensus reached during the Wuhan informal summit, enhance political mutual trust, expand mutually beneficial cooperation and strengthen pragmatic cooperation in areas such as anti-terrorism, combating separatist forces, and cracking down on transnational crimes.
Chinese State Councilor and Minister of Public Security Zhao Kezhi said that the two countries have great potential and broad prospects for cooperation in law enforcement and security. Zhao is responsible for day-to-day law enforcement in China and commands about 1.9 million personnel.