After Dragon commander Michael Carter Quinn ordered five blasts of the ship's horn as a warning, the Iranian Revolutionary Guards Corps (IRGC) Navy responded by radioing that they are "here to safeguard our national sovereignty and we are doing routine operations."
Quinn told The Telegraph that if the Iranian attack boats did not move aside in the long run, the Dragon crew would have to fire flares and warning shots.
"You have to provide a robust response. The day you don't take it seriously is the day you become unstuck," he underscored.
READ MORE: United States and Iran Unlikely to Face Off in Strait of Hormuz – Journalist
In late August, Iranian Armed Forces Chief of Staff Major General Mohammad Bagheri said that thanks to the IRGC's Navy, "the hostile countries are worried before crossing the Strait of Hormuz."
He noted that last year, these countries had abided by international law, but if they breached them, they would be confronted and dealt with.
READ MORE: Iranian Ballistic Missile Flew Over Strait of Hormuz During Recent Drill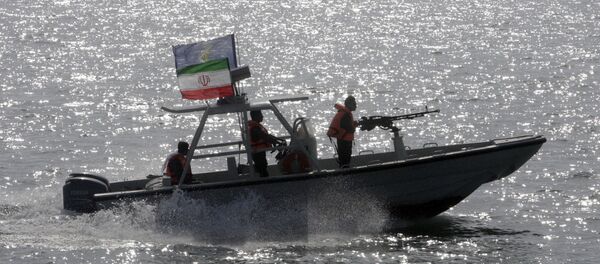 Earlier, Alireza Tangsiri, the IRGC's navy chief, said that Iran has full control of the Strait of Hormuz and the Persian Gulf. The statement came after Iranian officials threatened to block the Strait of Hormuz, cutting off the main oil shipping route, in retaliation for any hostile moves from the US.
Already-strained relations between Tehran and Washington became further exacerbated in early May, when US President Donald Trump announced a US pullout from the 2015 Iran nuclear deal.
He also promised to reinstate anti-Iranian sanctions, including those preventing other countries from doing business with the Islamic Republic.