"The two leaders discussed Mexico's efforts to address the migrant caravan," the readout said. Pompeo also welcomed Mexico's collaboration with the United Nations High Commission for Refugees and said the US stands ready to assist in those efforts.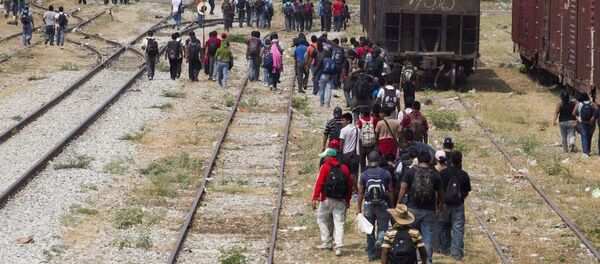 23 October 2018, 19:49 GMT
Meanwhile, Washington is evaluating every option on how to respond to the migrant caravan making its way to the US-Mexico border, a senior US administration official said in a conference call. "We're currently evaluating all options," the official said on Tuesday.
In a separate press conference, Mike Pompeo said the United States trusts Mexico's leaders to know what the best steps are to resolve this situation, adding that the caravan will not succeed entering the United States illegally.
The United States is pressing Mexico to halt the caravan, which the United Nations estimates includes more than 7,000 asylum-seekers, before the group reaches the US border.
READ MORE: Trump Says Ready to Reinforce US Border to Stop Migrant Caravan — Reports
President Donald Trump has vowed to cut off US aid to Honduras, El Salvador and Guatemala over their failure to stop migrants from leaving their countries to come illegally to the United States. The caravan consists mainly of Honduran migrants, however, published reports indicate that a second US-bound caravan is now forming in El Salvador.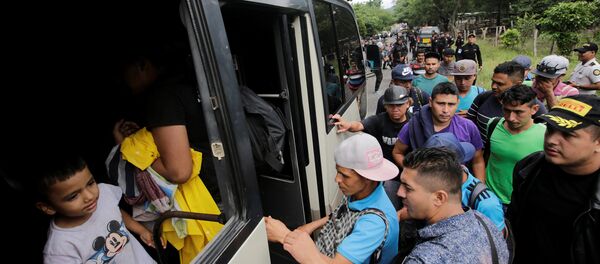 22 October 2018, 22:04 GMT
Meanwhile, the number of apprehensions of migrant families this September marks the highest ever recorded by the US Customs and Border Protection (CBP), a senior US administration official told reporters in a conference call.
"The total number of family units CBP apprehended [in September] 20,120," the official said on Tuesday. "It brought us to 161,113 for the year… this is the highest September ever for Border Patrol apprehensions of family units."
The official stressed there has been a steady increase of unaccompanied children and family units compared to adults since 2000 and the trend indicates there is a border crisis.