Facebook and Twitter, one of the world's most popular social media platforms, have detected no evidence of alleged Chinese meddling in the 2018 US elections, Bloomberg reports, citing unnamed officials from both companiesm who refused to reveal their identities.
This comes shorty after an array of cybersecurity companies, such as FireEye, Symantec, and Crowdstrike also confirmed that they hadn't seen evidence of China's digital interference in US elections.
The Bloomberg report challenges claims of several high-profile officials, including Donald Trump, that China attemped to interere in the US midterms. In September, the POTUS during a UN Security Council meeting accused China of meddling in the 2018 US election with the goal of ousting him from office because he has challenged Beijing on trade — something that Chinese Foreign Affairs Minister Wang Yi firmly denied.
READ MORE: Beijing Refutes Trump's Accusations of Mid-Term Election Meddling
Vice President Mike Pence echoed Trump's accusations during a speech at the Hudson Institute in Washington DC on October 4, saying that China is trying to influence American public opinion in the 2018 and 2020 elections because, "Trump's leadership is working, and China wants a different American president."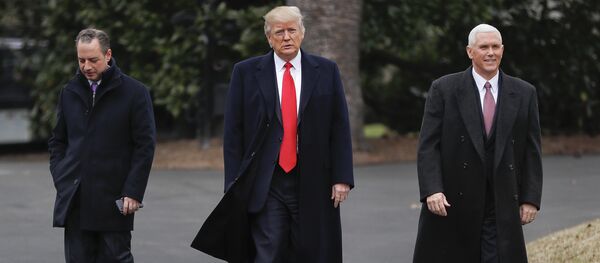 17 October 2018, 05:03 GMT
Washington's accusations of election meddling come as the United States and China have become increasingly embroiled in a trade dispute that has seen the two sides impose tariffs on billions of dollars' worth of goods. The trade war was initiated by Donald Trump in a bid to fix his country's massive trade deficit with China.
In June, he slapped a 25 percent tariff on $50 billion worth of Chinese goods, with Beijing responding in kind. Trump's fresh levies targeted about $200 billion worth of Chinese imports in September, propmting Beijing to hit back at with its own tariffs on $60 billion of American products.