Four US soldiers were injured in an accident involving four vehicles in Norway, according to a statement by the US military.
"The accident occurred when three vehicles collided and a fourth vehicle slid off the pavement and overturned while trying to avoid the three vehicles that had collided," US officials said, according to Reuters.
Three of the soldiers remain hospitalized and under observations, but their condition is stable, the report says. The fourth soldier was released after a short hospitalization.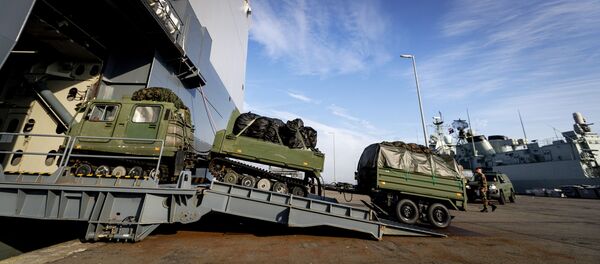 21 October 2018, 14:00 GMT
The soldiers were in trucks delivering cargo to Kongens Gruve, Norway, in support of Trident Juncture 18, the largest NATO exercise in recent years, which is set to begin on Thursday. The vehicles and personnel involved in the accident were assigned to the US Army's 51st Composite Truck Company, which is stationed in Germany.
The US military is reportedly working with Norway to investigate the accident, Reuters said.
The Trident Juncture exercise will involve around 50,000 personnel from NATO allies and partner countries, about 250 aircraft, 65 sea vessels and up to 10,000 ground vehicles. It will go on from October 25 to November 7 in central and eastern Norway, as well as the surrounding areas of the North Atlantic and the Baltic Sea, including Iceland and Finnish and Swedish airspace.