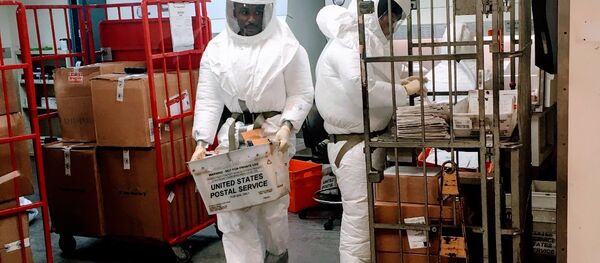 24 October 2018, 13:21 GMT
This week, between Monday and Wednesday, several suspicious packages were delivered various addresses in New York, Washington, DC, and Florida. The manila envelopes, which contained "
potentially destructive devices
," were addressed to billionaire Democratic donor George Soros, former Secretary of State Hillary Clinton, former US President Barack Obama, former CIA Director John Brennan via CNN, and former US Attorney General Eric Holder.
According to the FBI, the package addressed to Holder was rerouted to its return address, which was listed as the Florida office of Democratic Rep. Deborah Wasserman Schultz, who is the former chair of the Democratic National Committee. All delivered packages had Schultz's office listed as the return address.
All the packages, which had computer-printed address labels and six stamps, have been sent to Quantico, Virginia, to be analyzed by the FBI.
​Horne spoke with Radio Sputnik's Loud & Clear on Wednesday to discuss how the US' violent beginnings relate to the terroristic acts taking place in this day and age.
"I think in light of the rise of [US President] Donald J. Trump and political violence and the rhetoric of violence that has accompanied his ascendency, we need to similarly query historians and those who call themselves political scientists about their inability… their lack of capability in explaining this present moment," Horne, a professor at the University of Houston, told hosts Brian Becker and John Kiriakou.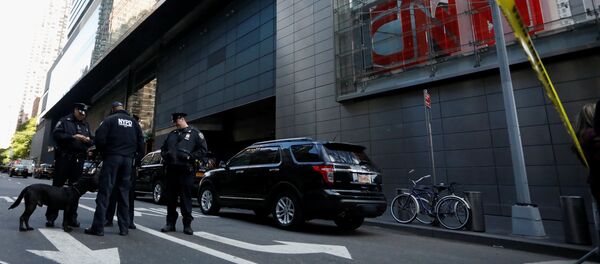 24 October 2018, 20:06 GMT
"If they were to be honest, they'd recognize that this nation was born in violence, not only in terms of an armed revolt against British rule but then in the Constitution that in the Second Amendment sanctified the use of militias, not least to suppress Native Americans and thwart slave uprisings."
According to Horne, US political terrorism saw its rise sometime in the 1850s with the creation of the Know Nothing Party — which would become the precursor to the Ku Klux Klan — and attacks on the left-wing labour movements dating back to the early 1930s.
"In that complexity of events, you begin to see how people can then begin to accept and adopt demented explanations of why they're doing so badly, which leads us precisely to this moment we are discussing, of the planting of political bombs against people like George Soros and presumably Barack Obama and Hillary Clinton," Horne explained to Becker.
When asked if the packages could become pretexts for either the limitation or outright suspension of civil liberties in America, Horne didn't reject the idea.
"I think it would be naive to rule out that kind of possibility," he said, recalling how the arson attack on Germany's Reichstag building in 1933 eventually led to the "accelerated consolidation of power by the Nazis."