Secretary of Defense James Mattis is expected to approve the deployment order today, CNN reported, citing three administration officials.
Earlier in the day, the Mexican Interior Ministry and Defense Ministry issued a statement, saying that around 1,750 people had asked the Mexican authorities for asylum. Additionally, another 116 people had agreed to return to their home countries and had been temporarily placed in the sites for asylum seekers.
READ MORE: President Trump Threatens to Seal US-Mexico Border Over Migrant Caravan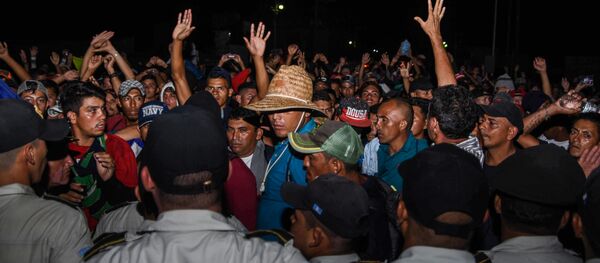 24 October 2018, 18:07 GMT
In an attempt to influence the authorities of Honduras, El Salvador and Guatemala and make them deal with the migrant flow, US President Donal Trump vowed last week to cut off US aid to the countries.
Later on, Trump accused Mexico of failing to stop the caravan of mostly Honduran migrants, seeking to settle in the United States, from approaching the US border. The president also suggested that there were criminals and "unknown Middle Easterners" in the caravan and pledged to send as many troops as necessary to the US southern border, calling the situation a national emergency.