Daesh fighters have forced a US-backed coalition of Kurdish and Arab forces out of the Hajin pocket, near the Iraqi border, AFP reported Sunday. An SDF commander, who preferred to remain anonymous, told the news agency that troops under his command had faced a "strong dust storm" and lacked local knowledge of the site, which led to the defeat, due to "zero visibility."
"Military reinforcements and heavy weapons have been sent to the front and some units will be replaced by more experienced ones," the commander said. "We will launch a new military campaign as soon as those reinforcements have arrived," he added.
READ MORE: WATCH Syrian Army Shatter Daesh Leftovers After Terrorists Break Ceasefire
According to the US-led coalition, which backed the SDF by carrying out airstrikes against Daesh, there are still at least 2,000 jihadists remaining in the area.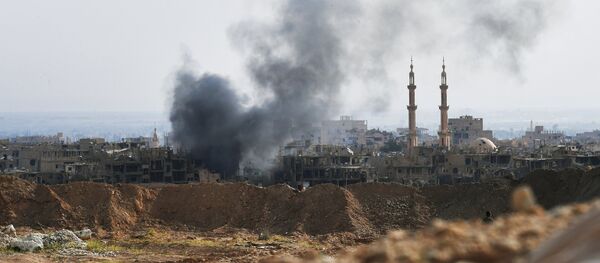 24 October 2018, 23:32 GMT
The SDF is mainly active on the eastern side of the Euphrates River,
fighting the remnants of Daesh,
which has reportedly been driven from all major strongholds both in Iraq and Syria. However, Damascus considers the SDF forces illegitimate, as they are operating in the country without the consent of the central government.
*Daesh, also known as IS/ISIS/ISIL/Islamic State, is a terrorist organization, banned in Russia