The military has already started to deliver jersey barriers to the southern US border in line with plans to deploy active duty troops there, US Defense Secretary Jim Mattis said during a visit to the Czech Republic on Sunday. The announcement comes at the time when a caravan of Central Americans is making its way across Mexico towards the United States.
According to the Pentagon chief, details of the deployment, including the exact number of troops, are still being worked out, but he said he would have them later on Sunday.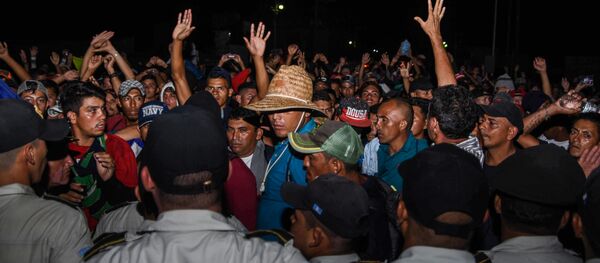 27 October 2018, 05:25 GMT
The additional deployment is expected to improve the logistics and provide other support to the US Border Patrol, thereby bolstering the efforts of the approximately 2,000 National Guard forces currently stationed there. The logistical assistance will include air support and equipment, such as necessary supplies of vehicles and tents, Mattis noted.
Department of Homeland Security (DHS) Secretary Kirstjen Nielsen said Sunday that President Trump is considering "every possible action" to prevent the controversial caravan of undocumented migrants, which is now moving closer to the US border, from entering the country illegally, adding there is in actual fact "a right way" to emigrate to the US.
"My general message to this caravan is do not come," Nielsen said iin an interview on "Fox News Sunday." "You will not be allowed in. There is a right way to emigrate to this country and this is not it."
READ MORE: Militia Groups Gear Up to Protect US Border Against Migrant Caravan
The Department of Homeland Security earlier reported that a large migrant caravan is on its way towards the US, crossing through Mexico. President Trump has vowed to take steps to prevent the migrants from crossing the US border and has slammed Mexican authorities for failing to stop the caravan.
On top of it, Trump alerted border patrol and military personnel by calling the situation a national emergency. He also harshly criticized the Democrats for standing in the way of effectively updating immigration laws. Civilian activists carrying guns and bulletproof vests are meanwhile gathering at the US' southern border in order to lend support to the US National Guard and Border Patrol, responsible for security in the area.
US Homeland Security Secretary Kirstjen Nielsen has announced the completion of the first section of the wall on the US-Mexico border, Trump's signature project he widely promoted throughout his 2016 election campaign.
The 30ft (9.15m) high and 2 mile (3.22 kilometer) long section of the border wall was officially unveiled earlier this month. The US president previously noted that he would oblige the Mexican side to cover the construction expenses, however the question about the sponsor is still formally open, since Mexico's President Enrique Peña Nieto has repeatedly refused to pay.