Sputnik: Angela Merkel has said that she will not be running for the CDU party leadership at its next party conference. Is this decision a surprise to you?
Malte Kaufmann: I really think it's a good decision that Merkel steps back as the chairperson of her party, but we think it's not enough. She should step back as chancellor of Germany. That would really help the country proceed, because she stands for mass migration and…also for the European debt crisis that we are facing at the moment. So the best decision she could take would be to step back from all of her offices right now.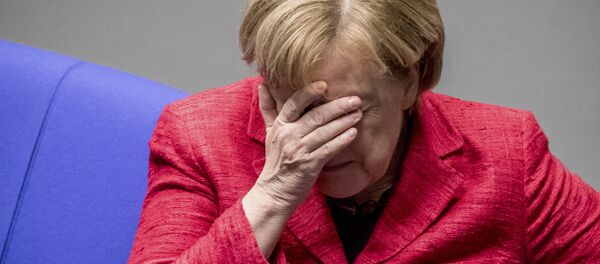 29 October 2018, 08:28 GMT
Sputnik: How significant a loss is this for the ruling coalition party?
Malte Kaufmann: It's really significant. In the last few years, in every election, the CDU and SPD [Social Democratic Party of Germany] have lost dramatically, also now in Bavaria and Hessen. The [ratings] of these two parties are going down, and on the other hand, the [ratings] of the Greens and the AfD are on the rise, because there is no profile anymore for the once-popular CDU and SPD parties.
Sputnik: What consequences can this have for Chancellor Merkel's policies in Germany?
Malte Kaufmann: Well as I've said, I think there is no dramatic change in her own policies; she has always stated that the public has misunderstood, has not really understood her ideas and her policies, and that she needs to explain more what she is trying to do. But the fact is, the public is waking up and saying 'we have had enough of this, we're fed up, we want a change in policies'. And that's why more and more people, by the millions, are turning away from her party.
Sputnik: Some experts are saying that these reputational losses could lead to Germany losing some of its influence and clout in the European Union on the eve of Brexit. Germany has been one of the strongest voices in the EU. It's been one of the leading countries economically and politically. How is Merkel's decision going to affect Berlin in that capacity?
Malte Kaufmann: It's already the case that Angela Merkel's policies are dividing the European Union nations, because many countries, like Italy, with [Matteo] Salvini as minister of interior, or Hungary with [Prime Minister Viktor] Orban, do not want this mass migration, primarily from Muslim countries, that Angela Merkel stands for.

29 October 2018, 12:10 GMT
Also, [regarding] Brexit, because Angela Merkel wants to hand over more and more sovereignty to the European Union, that's why the British people are leaving the European Union. So Merkel has to go if we would like to unite or have a united Europe in certain key aspects, like economy and securing the borders of the European Union.
Sputnik: Your party has been experiencing gains in recent elections. What does Merkel's planned departure mean for the AfD?
Malte Kaufmann: We're really glad, and in spite of all the attacks that we face from the media, from the leftist movement in Germany, we have won one parliament after the other. We are now in the European Parliament, in the national parliament, the Bundestag, and in all sixteen state parliaments; that's a historic victory; we are gaining movement, and more and more people are waking up and understanding that we are a conservative and patriotic movement and party; they are honoring that, and we win voters by the month.
Sputnik: What does the right wing shift that a lot of European states are facing right now say about voters?
Malte Kaufmann: I think it just says that they are waking up to the facts, to the reality. You know, in Germany, we have thousands of terrorists that have come through the mass migration. Just three weeks ago there was an incident in Cologne, where a terrorist was almost able to kill hundreds of people with a biochemical weapon. That's just one example. In Freiburg in the south of Germany there was a mass rape by fifteen people, fourteen of them Syrians, one German, and you know, we have all these attacks, knife attacks also. People are waking up and they want a change. And that's why the right wing movement all over Europe is gaining strength.
Dr. Malte Kaufmann is a lecturer at the Bucharest Academy of Economic Studies, and Alternative for Germany's chairman in the district of Heidelberg, southwestern Germany. The views expressed by Dr. Kauffman are his own, and do not necessarily reflect those of Sputnik.