"MPD was requested to respond to the Russian Embassy for a suspicious package. The suspicious package has been cleared with no hazardous materials found," Metropolitan Police Department of Washington, DC spokeswoman Karimah Bilal said.
The Russian Embassy refused to comment on this information.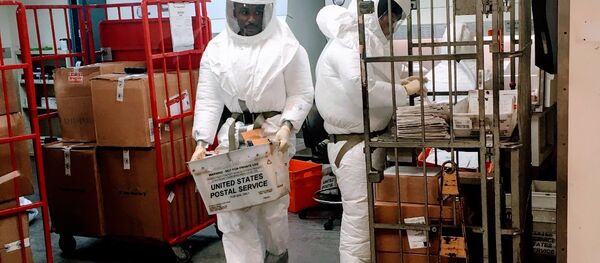 24 October 2018, 13:21 GMT
At least 14 packages have been sent over the past few days to former President Barack Obama, former Vice President Joe Biden, former Secretary of State Hillary Clinton and other high-profile US businessmen and politicians.
On Friday, US law enforcement agencies reported that a man suspected of sending packages with explosive devices was detained. After the arrest, the media circulated a photo of a detainee, a Brooklyn native currently living in Florida, Cesar Sayoc, 56, whose identity was confirmed through DNA evidence.
READ MORE: Pipe Bombs Spark Chaos — What Do We Know So Far?
US Attorney General Jeff Sessions said in a press conference on Friday that US authorities have charged Cesar Sayoc with five federal crimes.
Sayoc is reportedly a big supporter of the US President Donald Trump based on alleged social media posts and photos of him at Trump rallies. According to the Huffington Post, law enforcement took possession of a van used by Sayoc that was covered in stickers supporting Trump and criticizing Democratic officials.