The Russian Defense Ministry has stated that several dozens of 'White Helmets' members had arrived in the Syrian Aleppo province from Idlib to carry out a chemical weapons' provocation.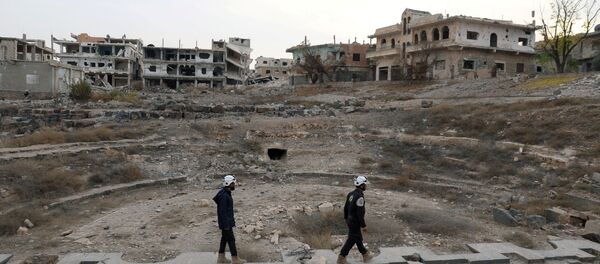 25 October 2018, 20:46 GMT
The White Helmets have already started the filming, involving unknown local residents, the Russian military stated.
"Militants of illegal armed groups do not abandon their attempts to destabilize the situation in the Idlib de-escalation zone. The Russian center for reconciliation received information from residents of Aleppo that they [militants] are preparing another provocation with the use of toxic agents to accuse the government forces of using chemical weapons against the local population," Lt. Gen. Vladimir Savchenko said as quoted by Russia's Defense Ministry.
He said several dozen members of the White Helmets organization had arrived in Aleppo province to carry out the chemical weapons provocation, adding that terrorists had brought containers with toxic agents required for the provocation to Aleppo from Idlib.
READ MORE: Canada Accepts Dozens of White Helmets Evacuated from Syria — Reports
"Members of the White Helmets organization are carrying out staged filming with participation of civilians unknown to local residents," he said.
Savchenko specified that, according to information received by the Russian center for Syrian reconciliation, militants planned to provoke the Syrian Armed Forces to open return fire, adding that their plan also included the staging, in a territory controlled by illegal armed units, of an artillery shelling with projectiles containing toxic agents allegedly conducted by Syria's military.
Previous week, Lebanon's Al-Mayadeen TV channel reported that militants and the White Helmets group transported poisonous materials from the city of Jisr al-Shughur to the settlement of Khirbat al Amud in Syria's Idlib province. The broadcaster didn't specify what kind of poisonous substance had been relocated.