Among the most prominent proponents of the ShamiWitness account were Eliot Higgins of Bellingcat and the Atlantic Council, who is known for telling his online opponents to "suck" his genitals; Charles Lister of the Middle East Institute, who contends that al-Qaeda "has really got it right" in Syria; Oz Katerji, a former Bellingcat team member and former Vice News journalist with a penchant for Lebanese porn stars; Michael Weiss, a CNN analyst that previously organized an anti-Islam rally in New York City; Danny Gold, another Vice News journalist famous for puff pieces about his pop culture discussions with al-Qaeda's affiliate in Syria (Jabhat al-Nusra); Washington Post Beirut Bureau Chief Liz Sly, a fake news pusher and lauder of Saudi Arabia's Crown Prince Mohammad bin Salman; and Israeli think tank analyst and Israel Defense Forces reservist Elizabeth Tsurkov, who is known for making wild claims about the Syrian government forcing citizens to appear on RT and Sputnik News with threats of torture.
The Middle East Institute and the Atlantic Council, it should be noted, are funded by Gulf monarchies like the United Arab Emirates and Saudi Arabia. For its part, Bellingcat receives funding from the National Endowment for Democracy, a US government organ often used to fund insurrectionists with policy goals that align with those of the United States.
As ShamiWitness was getting endorsements as an expert on jihadism and the Syria conflict, he was tweeting things such as: "May Allah guide, protect, strengthen and expand the Islamic State." He also tweeted jokes about Daesh fighters raping Kurdish women fighters and posted graphic videos of Daesh killings. ShamiWitness was one of the first to tweet the video of Daesh's beheading of American social worker Peter Kassig, which he posted five times within minutes of its publication.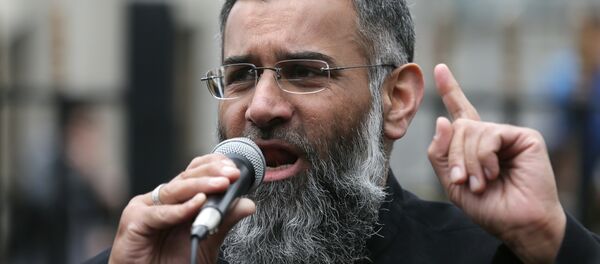 19 October 2018, 10:21 GMT
Followers of ShamiWitness have carried out terrorist attacks, including one that left 29 people dead in 2016. Two-thirds of all foreign jihadists followed the account, according to research conducted by ICSR at King's College London.
So who is behind the ShamiWitness account with so many prominent supporters? Counter to the name's suggestion, it's not a Syrian (Shami means Syria). As it turns out, the man behind ShamiWitness was a 24-year-old marketing executive named Mehdi Masroor Biswas, who lives in India and was arrested for operating the account in 2014.
Journalist Mark Ames notes that years after Biswas' arrest, many of his former supporters are in turn supported by the mainstream media and Beltway establishment, and they have successfully rebranded from Syria experts to Russiagate experts. Now, more details are coming out about Biswas' activities on the ShamiWitness account.
Before Biswas was outed, journalists started picking up on the account's jihadi sympathies, most notably Channel 4 earlier in 2014. Accordingly, Higgins immediately distanced himself from the account, saying ShamiWitness wasn't a Daesh mouthpiece but merely a Daesh parrot. As it turns out, Biswas' relationship to the genocidal Wahhabist group was far more involved.
Indian authorities discovered that Biswas, through his Twitter account, helped recruit a group of young men into Daesh's ranks. Moreover, a 2018 report by George Washington University's Program on Extremism details how ShamiWitness told would-be Daesh members where in Turkey they could link up with like-minded militants to be vetted and eventually relocated to the front lines in Syria.