US President Donald Trump, who defeated Clinton in 2016, said in a Monday night interview with Fox News that he would be "very happy" to run against Clinton in 2020.
"I like her too, I'd be very happy with Hillary," Trump said. "I don't see anybody that I wouldn't enjoy running against."
At the same time, Clinton's allies told The Hill on Monday that although Clinton is wistful about what could have happened if she'd defeated Donald Trump, she is not planning to participate in another election. Nevertheless, she would like to continue helping the Democratic Party. 
READ MORE: Hillary Clinton Jokes Black Politicians 'All Look Alike' (VIDEO)
 "She's more likely to win Powerball," Philippe Reines, Clinton's longtime adviser, told The Hill on Monday. "She's not running. I think it would be pretty damn clear if she was," another longtime confidant added.
They also told the Hill that there isn't anyone particular trying to push her into the 2020 race, which is already filled with candidates, and there is no internal discussion around her candidacy. Unlike the same situation before 2014, there is no pre-campaign organization formed for Clinton.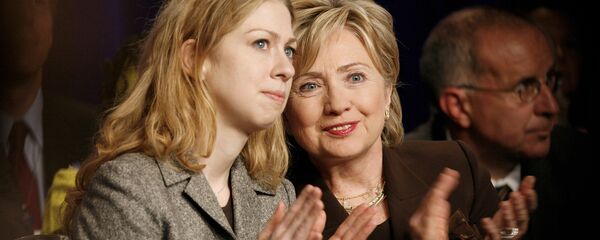 25 October 2018, 21:28 GMT
The backing for Clinton among the Democrats seems to be fading as well, mostly because despite her loss she remained in the spotlight.
"I think a lot of people definitely think she was screwed in this last election but no one is urging her to do this," the confidant said. "That doesn't mean people don't think the world of her. But the point of it is, it's not a real thing."
The talks about whether Hilary Clinton would run for the presidency once more started after  she and her husband announced a 13-city speaking tour for her book, "What Happened." She has also has maintained an active presence in Democratic circles, appearing alongside candidates such as Andrew Gillum, the Tallahassee mayor running for governor of Florida. She recently said that she won't try for the Democratic party's 2020 presidential nomination, but added that she "would like to be the president."
"I'm not even going to think about it until we get through this Nov. 6 election about what's going to happen after that," she added this Monday.
Democratic former Virginia governor Terry McAuliffe, who plans to run for the presidency himself, told MSNBC's Hallie Jackson that Clinton will "never be on the ballot again." 
"It's hard for Hillary," McAuliffe said. "She got 3 million more votes than Donald Trump did in the last presidential election. But I feel confident in saying I think Hillary is never going to be on the ballot again, I think she is done running for elected office. She's going to be out helping candidates. But I feel very confident in saying she's not going to run for president."