During the weekend, the three-time Olympic gold medalist posted a picture of his Halloween costume on Instagram. However, the 31-year-old athlete drew widespread ire from social media users as well as the Special Olympics organization, the world's largest sports organization for children and adults with intellectual disabilities. The Huffington Post took a screenshot of the image on White's instagram page before it was deleted Monday afternoon.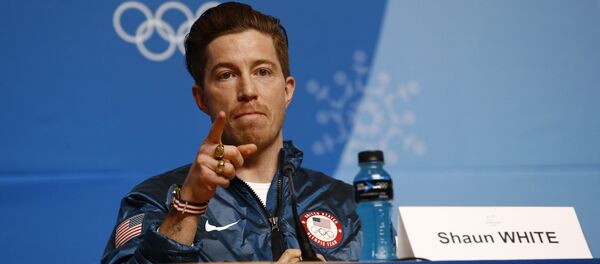 14 February 2018, 21:08 GMT
"Not only am I so incredibly heartbroken but so extremely disappointed," one commenter wrote. "You are someone that generations look up to and then you do something like this and it be all gone in a second. I would strongly suggest that you go to schools that work with children with disabilities."
"You're a real POS! Really?" another wrote.
On Monday, Soreen Palumbo, senior director of global youth engagement at Special Olympics, told the HuffPost that the organization was "truly disappointed" in White.
"We are truly disappointed that Shaun White, an acclaimed Olympian, would choose this costume which is so offensive and causes so much pain. Disability is not a joke nor should it be a punchline. We hope that Shaun White and others learn that this just continues stigma, stereotypes and discrimination," the statement said.
The Special Olympics did not immediately respond to Sputnik's request for comment.
On Tuesday, White issued a public apology on both Instagram and Twitter.
"I owe everyone in the Special Olympics community an apology for my poor choice of Halloween costume the other night," White wrote on social media.
"It was a last minute decision. It was the wrong one. The Special Olympics were right to call me out on it. They do great work supporting so many tremendous athletes and I am sorry for being insensitive. Lesson learned."
The Special Olympics' Twitter account thanked White for his apology Monday by responding to his tweet.
"Thank you @shaunwhite for listening to our community. You always have an invitation to shred with our athletes at #XGames Aspen!" the organization commented.
​"Tropic Thunder" is an action comedy film about a group of actors shooting a war movie who were forced to become the soldiers they were playing. The movie was heavily criticized by disability activists when it first debuted for using "derogatory words about this population," Peter Wheeler, a spokesperson for Special Olympics, said at the time, Reuters reported. "Simple Jack," who has red hair and freckles like White, portrays a person in the movie with an intellectual disability.
White also faced widespread backlash in February after referring to sexual harassment allegations made against him by Lena Zawaideh, the former drummer of White's rock band, "Bad Things," as "gossip" during a news conference with the Olympic Committee.
Soon after, White apologized for his remark while speaking with Today's Savannah Guthrie, Sputnik previously noted.
"I'm truly sorry that I chose the word 'gossip,'" he said. "It was a poor choice of words to describe such a sensitive subject in the world today."
White and Zawaideh eventually reached a settlement for an undisclosed amount after White requested that his accuser undergo a mental health evaluation.