The US and China "will meet each other more and more on the high seas" following last month's incident involving the USS Decatur and a Chinese vessel which the US has accused of attempting to shove out of the area, Chief of US Naval Operations Admiral John Richardson said on Tuesday, according to Reuters.
Richardson made the statement in Jakarta, where he met with his Indonesian counterpart for talks about US-Indonesian naval cooperation and the two countries' commitment "to growing" their "strategic partnership."
Great meeting with w/ my counterpart, Adm. Siwi Sukma Adji, The Chief of Staff of the Indonesian Navy (TNI AL). Exercising and deploying together makes both of us stronger, and we are committed to growing our strategic partnership pic.twitter.com/eONYhGsJoh

— Adm. John Richardson (@CNORichardson) 30 октября 2018 г.
Richardson also said that the US would monitor Russian-Chinese naval cooperation "with interest" as it continues to grow.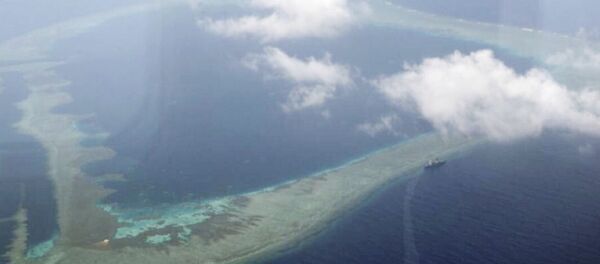 29 October 2018, 18:44 GMT
The admiral made the remarks a day after wrapping up his visit to the Philippines, which he also
characterized
as a steadfast friend, partner and ally in the region.
Indonesia and the Philippines are two of the six regional countries including China, Vietnam, Brunei, Malaysia, as well as Taiwan, with claims to portions of the South China Sea, a strategically and economically crucial waterway through which some $5 trillion in annual global trade passes.
Last month, a US Pacific Fleet spokesman accused a Chinese destroyer of approaching the USS Decatur in an "unsafe and unprofessional" way, with photos released later showing the two warships drifting to within a distance of less than 45 meters.
On Monday, Richardson promised that September's incident would not stop the US Navy from carrying out "freedom of navigation operations" either in the region, or anywhere else for that matter. "We do dozens of these operations around the world to indicate our position [on]…illegitimate claims, maritime claims," the admiral said.
Chinese Foreign Minister Wang Yi responded to the admiral's Monday remarks, commenting on how some "non-regional countries" fuel tensions by "showing off their force" in the disputed waters. Earlier, Cui Tiankai, China's ambassador to the US, called the destroyer incident an intervention "at China's doorstep," not unlike that which would follow if Chinese warships appeared off of the coast of California or in the Gulf of Mexico.