On October 19, Venezuela's Ambassador to Russia Carlos Faria Tortosa told Sputnik that Caracas and Moscow were working on the possibility of organizing a visit by Venezuelan President Nicolas Maduro to Russia in late November to attend a meeting of the joint intergovernmental commission on trade and economic cooperation.
READ MORE: Venezuela Hopes Petro Cryptocurrency to Negate US Economic Blockade
"A series of meetings was conducted, and a [meeting of] Russia-Venezuela high-level intergovernmental commission will soon take place, where Venezuela is going to present petro, this time already launched and worked out," Roa said.
The minister expects that Russia, China and other states would be interested in investing in petro.
"All sovereign states are beginning to see cryptocurrency as a way to break dependence on a currency that relies on securities lacking any real value," he said.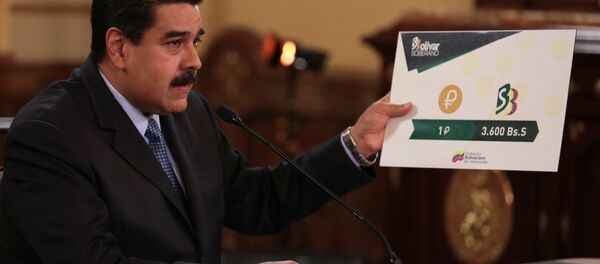 27 August 2018, 10:48 GMT
Petro is the world's first oil-backed cryptocurrency. Venezuelan President Nicolas Maduro set the price of one petro as the price of one barrel of Venezuelan oil, or around $60. According to Maduro, any Venezuelan will be able to purchase petro for foreign currency while after November 5, the cryptocurrency will be available for purchase for Venezuelan national currency.
Earlier in October, Roa said that Caracas expected petro to break the economic blockade imposed on Venezuela by the United States.