During a hearing scheduled to take place on November 27, British MPs and their Canadian counterparts want Facebook founder Mark Zuckerberg to appear before an "international grand committee," saying that his "evidence is now overdue and urgent".
"We call on you to take up this historic opportunity to tell parliamentarians from both sides of the Atlantic and beyond about the measures Facebook is taking to halt the spread of disinformation on your platform, and to protect user data," said Damian Collins, Tory MP who chairs the UK's Digital, Culture, Media and Sport Committee.
This comes a day after British Chancellor Philip Hammond announced that the government would slap a digital services tax on the domestic revenue of "established tech giants," including Facebook. Moreover, last week the UK Information Commissioner's Office imposed a maximum allowable fine of 500,000 pounds (some $645,000) on Facebook for "serious breaches of data protection law."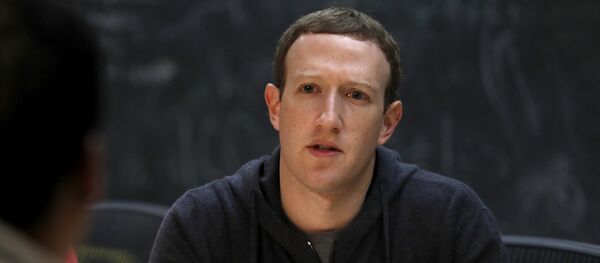 18 October 2018, 02:48 GMT
This year, Facebook's chief found himself at the center of a firestorm that erupted after the personal information of up to 87 million Facebook users had been harvested without users' permission and used for political purposes by the UK-based Cambridge Analytica consultancy firm.
Zuckerberg was subsequently questioned by the US Congress and the European Parliament. He declined to appear before the UK parliament and sent less senior representatives instead. The founder of the world's biggest social network apologized to Congress and called the data leak his own mistake, pledging to step up efforts to improve users' privacy. MEPs pressed him on Facebook's global influence and use of personal data, but Zuckerberg's testimony left the European politicians disappointed, with some criticizing him for clamping down on the spread of fake news.