"According to information received by the Russian Center for Syrian reconciliation, militants from the Ahrar-ash-Sham and Jaish al-Izza groups are preparing new provocations using chemical agents," Lt. Gen. Vladimir Savchenko said at a daily news briefing.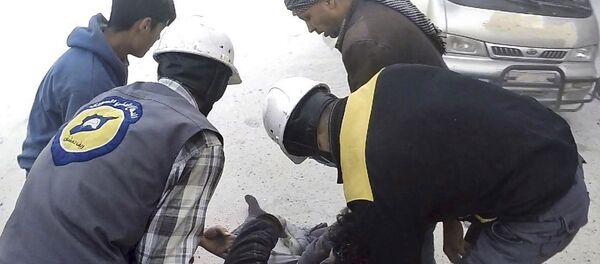 31 October 2018, 11:52 GMT
"The terrorists delivered two containers with chlorine to a granary in the northern part of the settlement of Kalyat al-Mudik, located 20 kilometers west of the city of Hama. They are planning to use this chemical agent to stage a fake chemical attack against civilians by the Syrian government forces," the general said.
Earlier, Russian Defense Ministry spokesman Maj. Gen. Igor Konashenkov said that militants in several Syrian regions including Aleppo were engaged in planning provocations involving the use of chemical weapons including chlorine.
READ MORE: White Helmets Started Filming Fake Chemical Weapons Attack — Russian MoD
On October 27, the Russian Center for Reconciliation in Syria reported that it received information from locals that terrorists from the Islamic Party of Turkestan* had transferred twenty 10 liter containers of chlorine for use in false flag attacks in Maarrat al-Nu'man, a city in Idlib province.
* Terrorist groups outlawed in Russia and many other countries.