London and Brussels have struck a deal on all aspects of post-withdrawal relations in services and exchange of data, The Times newspaper reported, citing government sources.
Last week, Sam Woods, the deputy chief of the Bank of England, said that the UK central bank was working on making the UK withdrawal from the European Union as smooth as possible, noting that the UK authorities were working on a regime allowing EU financial and insurance companies operate in the United Kingdom until 2022.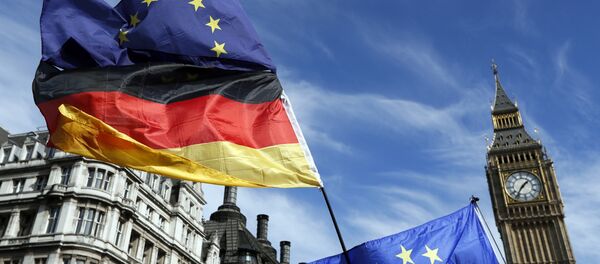 26 October 2018, 23:10 GMT
On Wednesday, UK Brexit Secretary Dominic Raab said he expected the final withdrawal deal with the European Union to be reached by November 21. The official noted, however, that the issue of the border between Northern Ireland and the Republic of Ireland was still a matter of concern.
READ MORE: UK Government Need to Keep EU Laws After Brexit to Protect Environment — Scholar
Negotiators from London and Brussels have been holding talks on bilateral relations after the UK withdrawal from the bloc, scheduled for late March 2019, for over a year. The talks, however, have reached a deadlock on how to avoid controls on Northern Ireland's border without keeping the rest of the United Kingdom in the EU customs area after Brexit.