India is hoping to continue importing Iranian oil following the imposition of US sanctions on Tehran over the weekend, a source in the country's Ministry of External Affairs has told Sputnik.
"We have already had several rounds of negotiations on this issue, both with the United States itself and with other interested parties. As for the United States, we hope that we will be able to agree on the issue of continuing deliveries [from Iran]," the source said.
According to the source, New Delhi has informed Washington that the abrupt suspension of crude imports from Iran would lead to a spike in gasoline prices in India. At the same time, the US side has informed its partners, including India, that it expects them to continue to limit economic ties with Iran, the source said.
"An abrupt cessation of oil supplies from Iran, which offers its partners favorable conditions, will lead to a spike in fuel prices in the country. We have expressed our position on the issue to our US colleagues," the source noted.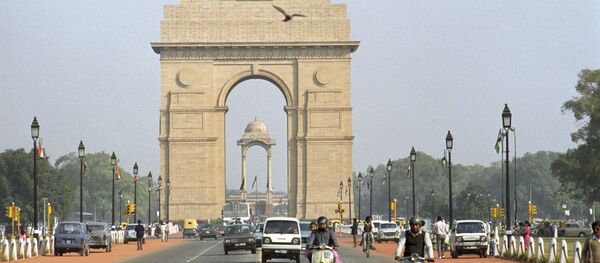 1 November 2018, 14:07 GMT
In early October, US Secretary of State Mike Pompeo said that the US was considering providing waivers to some importers of Iranian oil, including India, to give them time to adjust to the new conditions, with the ultimate aim remaining to eventually reduce Iranian oil imports "to zero."
India is the second-largest buyer of Iranian oil after China, which has indicated that it will not stop buying energy from Tehran, notwithstanding US sanctions threats. According to Bloomberg, India's purchases have recently averaged upwards of 500,000 barrels of Iranian crude per day. Last month, the chairman of India's state-owned Indian Oil Ltd said the company had ordered its "usual quota from Iran in November," and that the payment had been made in rupees.
Washington plans to introduce secondary sanctions on companies doing business with Iran on November 4, with the US State Department threatening to bring the Islamic Republic's energy exports down "to zero" after President Trump's withdrawal from the Iran nuclear deal in May. The Trump administration has put pressure on New Delhi over its purchases of Iranian oil, as well as its recent contract to purchase Russia's S-400 air defense system. Last week, the White House hinted that President Trump may decline an invitation to visit India next year for Republic Day celebrations due to New Delhi's actions.
Iran has accused the US of attempting to use sanctions to wage "economic terrorism," but also boasted that it has bolstered partnerships with its major energy customers and found new partners ready to buy its oil after Washington's Japanese and South Korean allies bowed to US secondary sanctions pressure.