UK Prime Minister Theresa May is likely to present her cabinet with a Brexit ultimatum on Tuesday, giving ministers the option of either throwing their weight behind a deal or standing down, BBC Radio 5 Live's Brexitcast show reported, citing a political source.
"A cabinet source was saying to me yesterday, 'I think maybe next Tuesday Theresa May will try and bounce everyone into a deal," journalist Laura Kuenssberg said on Friday.
READ MORE: London's Failure to Secure WTO Deal Serves Brussels' Brexit Line – UKIP Member
Citing her cabinet source, the BBC journalist said ministers are yet to discuss their next move if they feel the European Union isn't prepared to offer them a better withdrawal deal.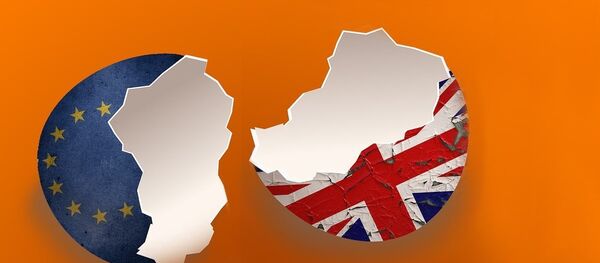 1 November 2018, 16:20 GMT
"Next Tuesday might be the day when Theresa May says 'OK, this is as good as it gets. What you gonna do? Are you really gonna walk out of this cabinet and say that you'd prefer no deal?'"
She also suggested that MPs are likely to vote on an eventual Brexit deal in late December, potentially even on Christmas Eve.
Earlier this year, following the Chequers meeting, Boris Johnson and David Davis resigned from the cabinet in disagreement with PM May's Brexit strategy, insisting she was willing to give too much away to Brussels.
Talks remain deadlocked over the Northern Irish backstop, and with both sides seemingly unwillingly to compromise, a no-deal Brexit is looking increasingly likely, prompting the EU and Britain to step up their preparations for such an eventuality.
Meanwhile, pro-EU campaigners are still calling for Brits to have the final say on the UK's membership of the bloc, giving the electorate an opportunity to bail out of Brexit.
Some 700,000 protestors attended rallies in central London last month, seeking to pressurize the British government into holding a fresh vote.
However, the government has so far shrugged off these calls, insisting it already has a mandate to pull Britain out of the EU, via the 2016 referendum, which saw Brits marginally vote in favor of leaving the union.
READ MORE: After Brexit UK's Access to EU Financial Market Won't Be Secure Like Now — Prof