"The Ukrainian Orthodox Church considers the entire process initiated around the creation of the so-called united church, illegitimate from the point of view of church canons. We do not participate in any events related to this, because they are essentially anti-church, " Archbishop Klemens, who serves as the church's spokesman, said.
READ MORE: Orthodox Christianity: Civil War in the Church
The process of granting autocephaly to Kiev looks like "farce," but the Ukrainian Orthodox Church does not have much information about the issue, the spokesman noted.
"Patriarch Bartholomew [of Constantinople] does not communicate with canonical bishops, but communicates only with politicians, often non-Orthodox, and does not consider it necessary to explain his position to the Orthodox parishioners of Ukraine," Klemens stressed.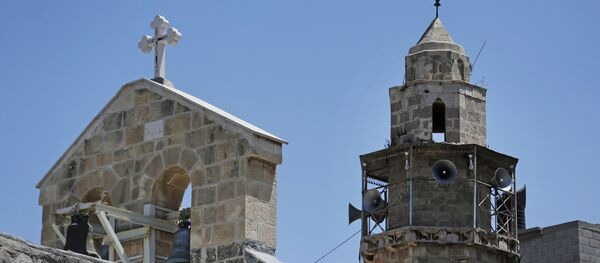 12 October 2018, 11:03 GMT
In October, the Synod of the Constantinople Patriarchate announced that it would proceed to
granting independence to the Orthodox Church in Ukraine,
which is currently split into three major churches — the Ukrainian Orthodox Church of Moscow Patriarchate, the non-canonical Ukrainian Orthodox Church of Kiev Patriarchate (UOC-KP), which was created after the collapse of the Soviet Union, and the so-called Ukrainian Autocephalous Orthodox Church.
Ecumenical Patriarch Bartholomew of Constantinople on Saturday signed the cooperation agreement with Ukrainian President Petro Poroshenko in an effort to accelerate the process of granting independence to the Ukrainian non-canonical Orthodox Church.
READ MORE: Lebanese Orthodox Party Backs Russian Orthodox Church in Constantinople Row
Addressing the move, Holy Synod of the Russian Orthodox Church decided to completely "break the Eucharistic communion" with the Patriarchate of Constantinople. The Moscow Patriarchate called Constantinople's decision the "legalization of schism," saying that it would have catastrophic consequences and would affect millions of Christians in Ukraine and other countries.