This neighborhood near Mexico City Airport has never been considered safe and now the situation is aggravated by dozens of non-Mexican beggars stopping drivers at traffic signals near the sports center. A Sputnik correspondent visited the camp and was surprised to hear that the migrants do not even have any further plan of action.
Three Roads Ahead
Most of these migrants, who are mainly from Honduras, do not have a clear plan what to do next.
"We do not know yet where we are going next. Of course, we want to get into the States but we might stay here if we get help," Miguel, a 20-year-old refugee from Honduras, told Sputnik.
​These migrants, mainly aged between 20 and 25, have left their home country in an attempt to find jobs and a better life which Honduras cannot provide. There are very few people in this caravan from neighboring countries like El Salvador and Guatemala.
The migrants themselves are talking about three possible roads ahead. The most desirable road is to get into the United States. It is also the most difficult plan considering President Donald Trump's tough stance on the issue.
"I do not think they will shoot," Miguel said commenting on Trump's intention to use troops against migrants at the border.
The second option is to stay in Mexico, which is much easier because some of the migrants have already reached the country's capital. Mexican authorities are promising to make their life better and take care of the paperwork if they seek asylum. For Central Americans, Mexico is the same option as the United States is for some Mexicans. It is a desirable land where the quality of life is incomparably better.
The third and least wanted option is returning home. Only several hundred out of thousands of migrants traveling to the United States in caravans have so far agreed to this proposal from the Mexican authorities, who are willing to pay for their trip back home.
​The migrants have no idea which border point to chose to cross into the United States. Technically, there are three of them, near Tijuana, Ciudad Juarez and Nuevo Laredo. These three cities are claimed to be the most plausible destinations for the caravans, according to Mexican media.
Is Crime Rate Growing?
The biggest question for ordinary people is — who are these people living in a camp in the Mexican capital? It should be admitted that the Sputnik correspondent, who found himself in a crowd of migrants, did have certain concerns regarding his personal safety and the safety of his photography equipment. However, everything has gone smoothly.
"There have been no incidents since yesterday [Sunday] when they arrived," a representative of the UNICEF, engaged in helping migrants' children, told Sputnik.
Police are patrolling the camp area, however, its presence is not that abundant. There are no special squads driving armored vehicles but rather regular street police officers. US officials' fears of numerous criminals joining ranks with the migrants are most likely unfounded. First, Central American gangsters have other, more reliable ways to enter the United States than a migrant caravan followed by the entire world. Second, no people wearing the distinctive tattoos of Central American gangs, such as Mara Salvatrucha or Barrio-18, were spotted in the caravan. The majority are obviously residents of rural areas. There are some women and children but their number is small and they remain uninvolved. Men are making all the decisions.
Mexican Aid
Notably, the Mexicans prepared well for the caravan's arrival. They pulled together civil defense forces, the National System for Integral Family Development (DIF) and the Mexican government. Migrants sleep in both regular small tents and huge marquees that may accommodate several hundred people.
"There will be a total of five big tents," a Mexican government employee told Sputnik.
Overall, the migrants have nothing to complain about when it comes to facilities. There is a cafeteria providing three meals per day as well as mobile first aid units, including dentists, psychologists and other specialists. The camping site is fitted with portable toilets. Garbage is removed by municipal services.
© AFP 2023 / ORLANDO ESTRADA
Honduran migrants taking part in a new caravan heading to the US, talk with Guatemalan police officers on their arrival to Chiquimula, Guatemala, on October 22, 2018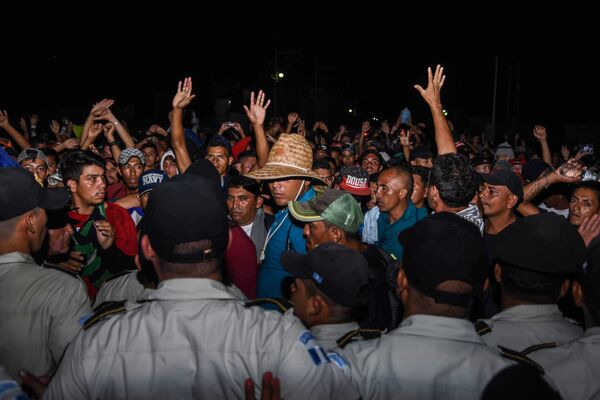 Honduran migrants taking part in a new caravan heading to the US, talk with Guatemalan police officers on their arrival to Chiquimula, Guatemala, on October 22, 2018
The Hondurans are not restricted in their movements. They are free to leave the camp area and return, and many use this opportunity to beg for money at nearby traffic signals. The sports center allows vehicles to enter its area. The training sessions continue as always since migrants were only allocated the section with football fields.
"The exact number of migrants is not yet known but right now there are thousands and more will arrive with the second caravan," the UNICEF representative said.
He added that the majority of Honduran citizens are determined to finish their journey and reach US territory. The coming weeks will show if they succeed.