"The Nord Stream 2 Project is progressing as planned. Over 200 kilometers of the pipeline has been laid in the Baltic Sea to date," the company said in a press release.
READ MORE: US Envoy to EU Voices 'Blatant Threat' to Nord Stream 2 — Report
The project seeks to deliver Russian natural gas to Germany and other EU countries, bypassing Ukraine. Some 20 pipe-laying vessels are working simultaneously to ensure its timely completion.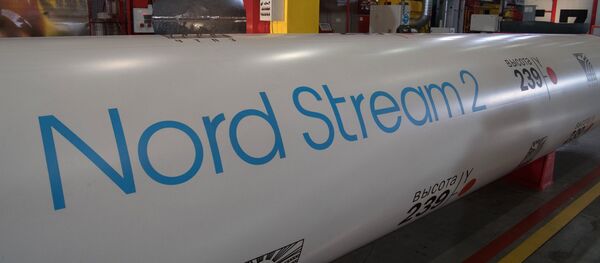 8 October 2018, 13:34 GMT
The firm also noted that "pipelay barge Castoro Dieci has completed her scope in the Bay of Greifswald in Germany, and "Audacia continues pipelay in the German territorial waters, while Solitaire is laying pipe in the Finnish Exclusive Economic Zone."
According to the press release, all works are being carried out in accordance with the received permits.
The estimated cost of the pipeline is almost $11 billion; Gazprom's partners in Europe – France's Engie, Austria's OMV, Royal Dutch Shell, and Germany's Uniper and Wintershall – pledged to finance 50 percent of the project. It is expected to come online by the end of next year.