The weapons, ammunition and medical equipment, most of them said to be US and British-made, were found in local villages thanks to cooperation between authorities and local national reconciliation committees in Jibat al-Khashab, Quneitra province and Beit Jin, Rif Dimashq province, the Syrian Arab News Agency has reported.
In coordination with the National Reconcilation Committee, more weapons and ammunition were retrieved in addition to medical equipment from Jubata al Khashab in Quneitra #Syria pic.twitter.com/prahvn9p2c

— G (@SyrianLionesss) 5 ноября 2018 г.
Photos and a video of the equipment show stocks including US-made sniper rifles, TOW rockets, US-made anti-armor shells, as well as machine guns, anti-aircraft installations, crates of bullets for heavy machineguns, mortar shells, telecommunications equipment, and a wide variety of imported medical and lab equipment, from electrocardiography machines to tools for a dental clinic.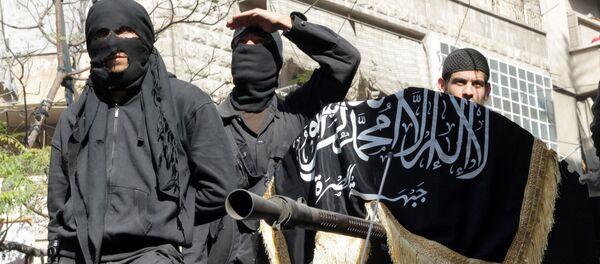 The Syrian military completed the liberation of East Ghouta in Rif Dimashq province this spring, and regained control over the provinces of Quneitra, Daraa and Suwayda in the summer, thanks in part to diplomatic efforts by the Russian Reconciliation Center to persuade militants to put down their arms and either relocate to the terrorist-held province of Idlib or join the fight against Daesh* and other terrorist groups.