Japanese Chief Cabinet Secretary Yoshihide Suga stressed during talks with Okinawa Governor Denny Tamaki that Japan's central government still intended to continue to push for relocating the base to Okinawa's coastal area, the NHK broadcaster stated.
In addition, Japanese Defense Minister Takeshi Iwaya said that he planned to visit Okinawa soon for the US base-related talks with Governor Tamaki, NHK stated. The visit may take place later this week, according to the defense ministry sources.
READ MORE: Okinawa Governor May Take on US Base Via Gov't Dispute Mgmt. Council — Reports
By relocating the base, Tokyo wanted to remove dangers from the densely populated Futenma base, among other reasons, Iwaya said as quoted by the local broadcaster.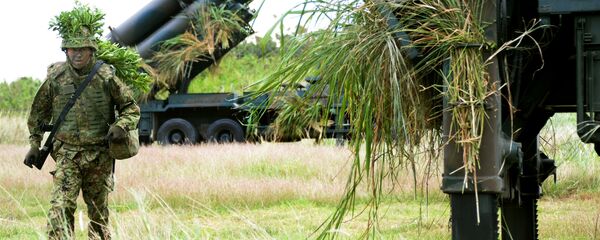 29 October 2018, 11:26 GMT
Earlier in the day, the agreement to initiate talks on the US base relocation was reached by Yoshihide Suga and Denny Tamaki, according to the NHK.
Prior to reaching the deal, the Okinawa authorities decided to revoke the permit for a landfill reclamation project in August that was being carried out off the coast of the city of Nago. The project, which was supposed to see Futenma base relocated from the island's Ginowan city to the northern coastal area, had started in mid-2017 but was met with protests from locals, who were against the deployment of US troops and equipment in the area, citing abuses by US personnel and various accidents during military training.