"The declarative principle of the religious neutrality of the Greek state ensures the different roles of the state and the church and, on the other hand, guarantees their cooperation on issues of mutual interest. And it is obvious that this principle is not in any contradiction with the age-old traditions of our people," Tsipras said after meeting with the bishops.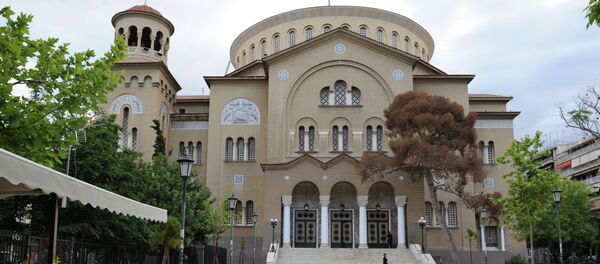 6 November 2018, 23:17 GMT
There are no grounds for tragicomic jokes deliberately spread in the last few days about the supposedly inevitable denial of historical symbols, such as the cross, the Greek flag and other national symbols, he stressed.
"The proclamation of religious neutrality in the constitution of Greece should emphasize that the Greek state is the guarantor of the freedom of religion of the Greek people and Greek citizens. Nothing more, nothing less," the prime minister said.
According to Tsipras, the government's dialogue with the Church of Greece has always been sincere and constructive, it will continue. Tsipras called the agreement with the church "historic."
READ MORE: Greece Seeks to Continue Defense Industry Cooperation With Russia – DM
Archbishop Hieronymos II said that the church would become more effective and would serve the will of the people.
"The permanent Holy Synod gave us permission for the agreement, and we will inform it tomorrow," the primate said.
Hieronymos II also dismissed claims about the church's untold wealth as myths.
On October 2, the ruling Coalition of the Radical Left (Syriza) introduced draft amendments to the constitution in the parliament. The initiative proposed to "modernize" article 3 and enshrine the state's religious neutrality in law, while maintaining "recognition of the Orthodox Church as the dominant religion for historical and practical reasons." The changes are revolutionary for a country in which 98 percent of population are Orthodox believers. On Tuesday, Tsipras met with Archbishop Hieronymos II and members of the Holy Synod of the Church of Greece to discuss the reform, and the parties signed a joint statement on the issue.
READ MORE: In the Ocean Deep: What You Don't Expect to See While Diving in Greece