Engineers at the Sukhoi Design Bureau in Moscow have completed extreme in-house testing of the Su-57's airframe, pushing the plane to the absolute limit of its tensile strength characteristics. Paying a visit to Sukhoi, a film crew from Zvezda, the official TV network of the Russian defense ministry, captured exclusive footage showing the precise moment that the Su-57's composite wing breaks off from the rest of the airframe during testing in a special chamber literally aimed at pulling the plane apart.
Speaking to Zvezda, Sukhoi design engineer Alexander Shkoda explained that if aircraft's breaking point proved to be between 99 percent and 104 percent of the maximum load calculated by engineers during design work, "this would be an excellent result. If our result is above 104 percent, that's not so good, because it means that the frame is too heavy."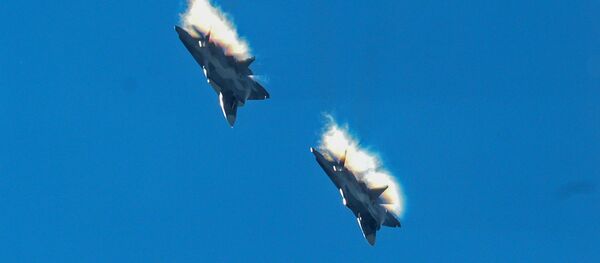 6 November 2018, 18:52 GMT
The test achieved a breaking point of 104 percent, meaning a good balance between durability and weight. "The frame is sturdy, it holds the maximum operational overload factor," Shkoda concluded.
The Su-57 is Russia's most advanced fifth-generation stealth air superiority fighter design. The single-seat, twin-engine plane is packed with a variety of cutting-edge avionics, electronics and weapons systems. Successfully tested against terrorist targets in Syria in early 2018, the jet will begin deliveries to the Russian military in 2019, with 12 fighters on order as of June 2018. Mass production is expected to start after that.