"Only if we continue cooperation with the IMF, Ukraine can avoid a default on debt obligations. Next year we should send more than 400 billion hryvnias [$14.39 billion] for servicing and paying off the debt. If Ukraine leaves the IMF program, the country will lose access to the financial resources of international organizations and institutional investors, and a default will turn from a phantom threat into a real prospect next year," the statement said.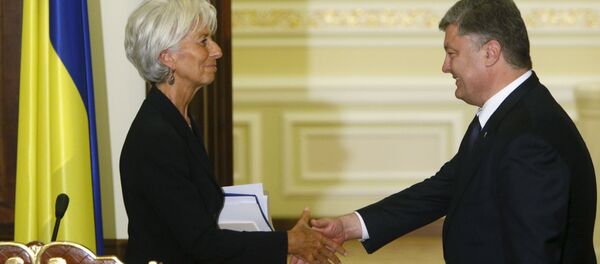 16 October 2018, 14:39 GMT
The ministry noted that Ukraine should give high priority to fiscal sustainability and continued cooperation with international partners and creditors, in particular with the IMF, whose technical mission is now in Ukraine.
It recalled that the IMF had approved a new stand-by program for Ukraine at the working level, and the prerequisite for the further approval of the program by the IMF board is fulfillment of Kiev's fiscal and budget obligations.