A Threat to European Values
On Wednesday, Donald Tusk addressed the Helsinki summit of the center-right European People's Party (EPP), the bloc's largest political group, which includes over 70 national parties. According to the former Polish PM, the European immigration crisis has brought about "the emergence of politicians," who started to counterpose "security and order against openness and freedom."
Tusk warned that this "threat" still remains. "I want to say it very bluntly that no one has the right — at least in our political family — to attack liberal democracy and its foundations. We cannot agree with an argument that the effective protection of the European border, of our territory and identity, means to defy the rules of liberal democracy."
A True Christian Democrat
Tusk gave a detailed not-to-do list of a die-hard Christian Democrat. "Let me be absolutely clear: if you're against the rule of law and independent judiciary, you are not a Christian Democrat. If you don't like the free press and the NGOs, if you tolerate the law phobia, homophobia, nationalism and anti-Semitism, you are not a Christian Democrat.
READ MORE: Orban: Hungary, Russia Agreed on Russian Gas Supplies for 2020 (VIDEO)
 "If you place the state of the nation against or above the freedom and dignity of an individual, you are not a Christian Democrat. If you wish for conflict and divisions globally and inside the European Union, you are not a Christian Democrat. If you support Putin and attack Ukraine, if you are in favor of the aggressor and against the victim, you are not a Christian Democrat. If you want to replace the Western model of liberal democracy with an Eastern model of authoritarian democrat, you are not a Christian Democrat."
An Enfant Terrible
Tusk delivered the speech in an invisible — yet almost palpable — nod to Viktor Orban. Earlier in the day, the latter also addressed the EPP congress: "Let us never trust those who build personal ambitions on dividing our EPP family with socialist and liberal accusations. For the sake of victory, let us get back to our spiritual roots and let us proclaim the renaissance of Christian Democracy."
The Hungarian PM hardly matches the description of a Christian Democrat cited by Tusk. During his time in office, Hungary has become one of the most anti-immigrant EU member states and has repeatedly clashed with the union over their contrasting stances on tackling the migrant crisis. In 2015, Hungary opted to be build barriers along the Hungary-Serbia and Hungary-Croatia borders to prevent migrants from entering the country en route to western European nations, which have migrant-friendly governments and generous welfare programs.
A Herald of '21st-Century Democracy'
Orban drew a lot of criticism from mainstream European liberals this year after his landslide victory in May that solidified his fourth term as prime minister. "We have replaced a shipwrecked liberal democracy with a 21st-century Christian democracy, which guarantees people's freedom, security," he said, addressing his supporters after the election.
READ MORE: Danish Right-Wingers Want to Stop Immigration From Africa in Hungary's Footsteps
This year, he also forced the George Soros-funded Open Society Foundations to withdraw from Hungary. Orban's Fidesz party has pushed a package of legislation, commonly referred to as "Stop Soros," that placed restrictions on NGOs and criminalizes assisting undocumented migrants. Lawmakers also passed a constitutional amendment barring any "alien population" from being settled in Hungary.
A Friend of Putin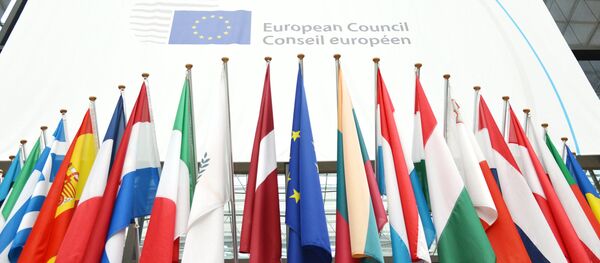 16 September 2018, 02:41 GMT
He has also boasted of having good relations with Vladimir Putin and opposed EU sanctions against Russia. Meanwhile, Donald Tusk's motherland, Poland has had patchy relations with Russia in recent years, with the two countries unable to see eye to eye on energy security and NATO's military buildup on Russia's borders.
Most importantly, however, he has challenged Brussels on immigration and based his reelection campaign this April largely on anti-immigrant rhetoric. The European family decided to punish its "enfant terrible" two months ago: MEPs voted for a motion that opens the door to a sanctions procedure against Orban.
The European Commission filed official complaints at the European Court of Justice, so Hungary might end up paying hefty fines and even be deprived of voting rights in the EU Council.