From a dune buggy equipped with a machine gun to a battle tank, and from military uniforms to the latest police facial recognition technology — you can find just about any military or law enforcement gadget or technology at IndoDefence. For four short days in November, Jakarta transforms into the arms capital of the region. And you can actually feel the exotic atmosphere of Southeast Asia the minute you arrive at the event.
"Police. With guitars": it would probably remind many of you of Sting and his band, but in this case, it's the actual Indonesia National Police off-duty law enforcement agents entertaining the crowd at the IndoDefence expo. pic.twitter.com/D5Oj6QiGGd

— Denis Bolotsky (@BolotskySputnik) November 8, 2018
Most participants are trying their best to address the needs of local buyers. Russia's GAZ group recently shipped 50 Ural all-terrain heavy-duty trucks to a client in Indonesia, and it seems that the customers are happy with the purchase:
"The quality is very good" — says Eric Pradjonggo from Indonesia's Ralika Group — "The user — the military, they are satisfied with the quality. We also prepared after-sales for them, also we have spare parts for one-year maintenance"
READ MORE: Russia to Start Deliveries of S-400 Systems to Turkey in 2019 — Rosoboronexport
Rosoboronexport, a part of Russia's tech giant Rostec, is showcasing a wide range of products to Jakarta — from night vision gadgets to missiles, tanks, helicopters and aeroplanes. Southeast Asia is at the top on the priority list of the Russian arms exporter, and is also a region where it has many long-standing partnerships.
The United Aircraft Corporation, which was created in 2006 to consolidate Russia's main aeroplane design and production assets, has big plans for the Southeast Asian market. The corporation has already had a successful experience selling MiG and Sukhoi Su fighter jets here, and has developed an optimistic attitude towards future projects in the region.
UAC's director for military and technical cooperation Viktor Chernov told Sputnik that the company is presenting a variety of its aircraft in Jakarta — for military use as well as civil aviation:
"We do expect that all our aircraft will draw interest, and also we do hope that the interest will be not only from our Indonesian customers, but also from other countries in the region. We are having negotiations and discussions with our potential customers, and we do hope that this exhibition will be useful for us."
According to Viktor Chernov, UAC's latest model for beginner pilots — the newly-created Yak-152, has great potential and can be used at the first stages of military pilot training, while the more advanced Yak-130 can become the aircraft of choice for the second stage of learning.
According to UAC's Viktor Chernov, the corporation sees Yak-152 as a good "Stage 1" model for flight schools. When pilots advance to the next levels, they could switch to another model, also made in Russia – the Yak-130. pic.twitter.com/0dRb4Q8STr

— Denis Bolotsky (@BolotskySputnik) November 8, 2018
When it comes to civil aviation, another Russian plane, which is well-prepared for the Indonesian market is the amphibious Be-200. It can both land and take off from the sea, lakes or rivers, carrying 12 tons of water in its 8 tanks, and can be used in a variety of rescue and fire-fighting missions. Under certain conditions, the model can be adapted to carry passengers and cargo.
The BE-200 is primarily a fire-fighting plane. Its engines are waterproof and it can land on water just about anywhere. When on a mission, it fills up its water tanks right from the sea surface in just 15 seconds. pic.twitter.com/cvzQsMaWgA

— Denis Bolotsky (@BolotskySputnik) November 8, 2018
UAC managers say that for a country like Indonesia, which has more than 900 inhabitable islands, many of which are inaccessible to other types of aeroplanes, this plane could become a valuable asset.
But it's not only giant corporations like the UAC that are storming the Asian market. Smaller companies, such as Russia-based IVA Technologies, have also decided to give it a shot. The vendor, which sells a range of products, brought its latest communication gadget to Indonesia in the hopes of attracting local customers. Tested by Russia's special forces, the IVA S/W Underwater Radio can transmit voice and data from water to air, which is unique for this type of communication.
According to IVA Technologies representative Olga Tyurina, divers can use the gadget to establish a communication link at distances of up to 100 meters for voice and up to 150 meters for data transmission:
"It can be used for defence purposes — to examine engineering objects, it can be used to connect between air- and underwater objects. This is a unique solution, and it's very special for this region, because majority of the territory lies on islands."
READ MORE: Rosoboronexport's Contracts Not Derailed by Sanctions — Director General
Besides the expo itself, industry professionals will have a chance to participate in B2B sessions and presentations at  IndoDefence 2018, and also — to see some of the military gear at a live open-air demonstration.
Southeast Asia currently has a growing arms market, with Russia, the EU and the US among its top sellers.
© Sputnik / Bolotsky Denis
IndoDefence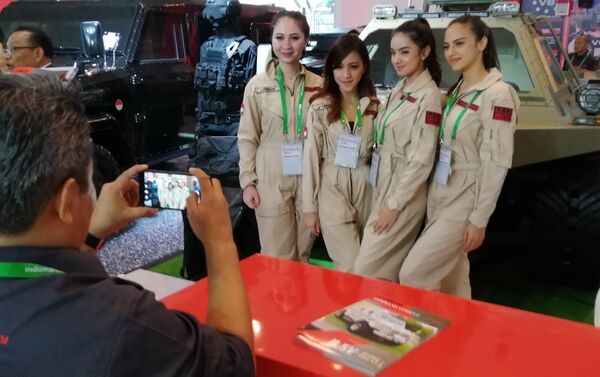 © Sputnik / Bolotsky Denis
© Sputnik / Bolotsky Denis
IndoDefence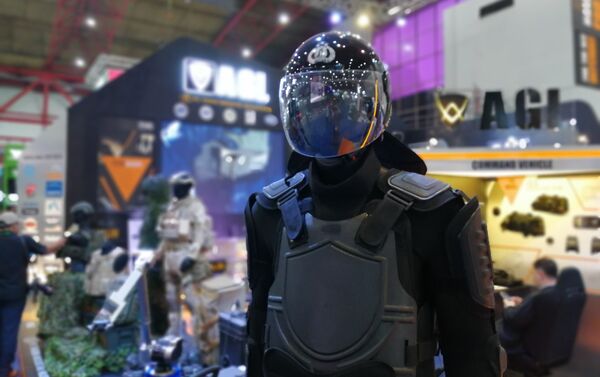 © Sputnik / Bolotsky Denis
© Sputnik / Bolotsky Denis
IndoDefence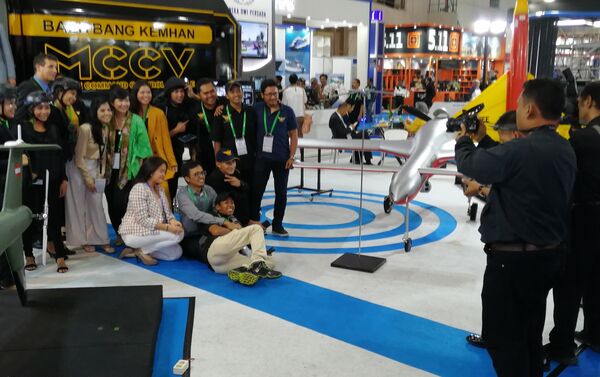 © Sputnik / Bolotsky Denis
© Sputnik / Bolotsky Denis
IndoDefence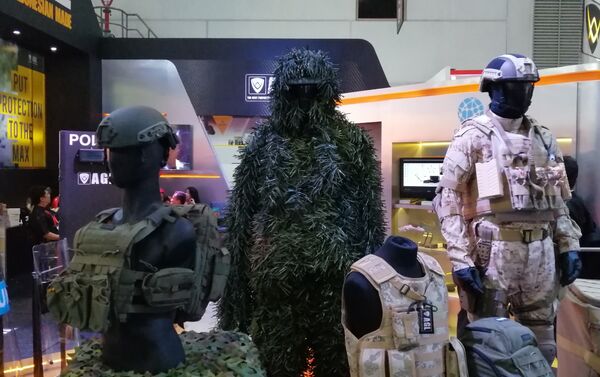 © Sputnik / Bolotsky Denis
© Sputnik / Bolotsky Denis
IndoDefence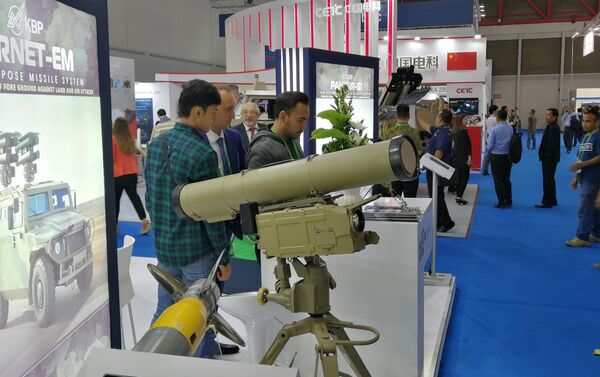 © Sputnik / Bolotsky Denis
© Sputnik / Bolotsky Denis
IndoDefence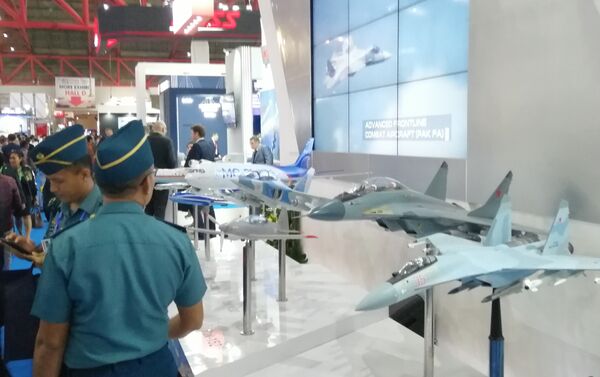 © Sputnik / Bolotsky Denis
© Sputnik / Bolotsky Denis
IndoDefence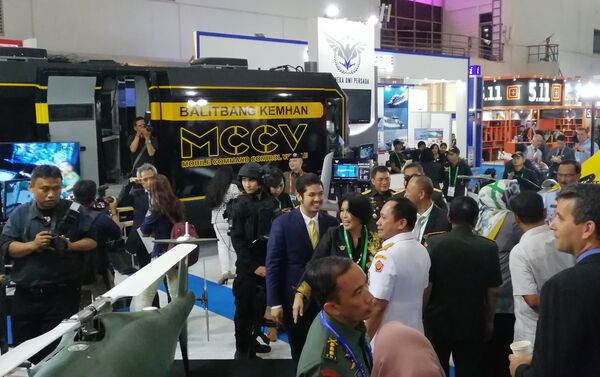 © Sputnik / Bolotsky Denis
© Sputnik / Bolotsky Denis
IndoDefence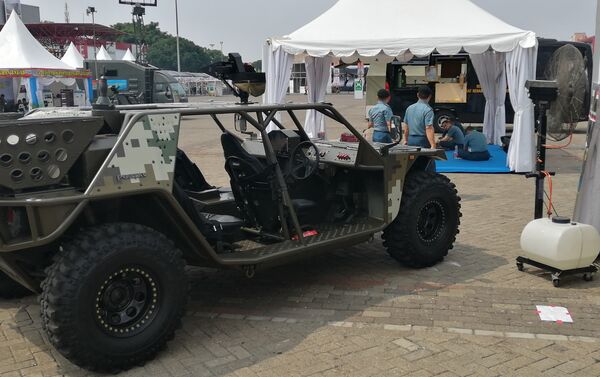 © Sputnik / Bolotsky Denis
© Sputnik / Bolotsky Denis
IndoDefence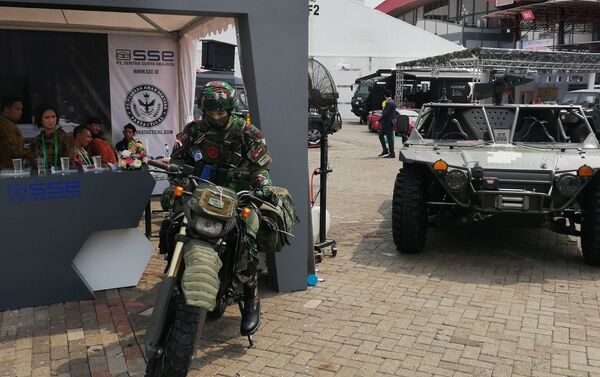 © Sputnik / Bolotsky Denis
© Sputnik / Bolotsky Denis
IndoDefence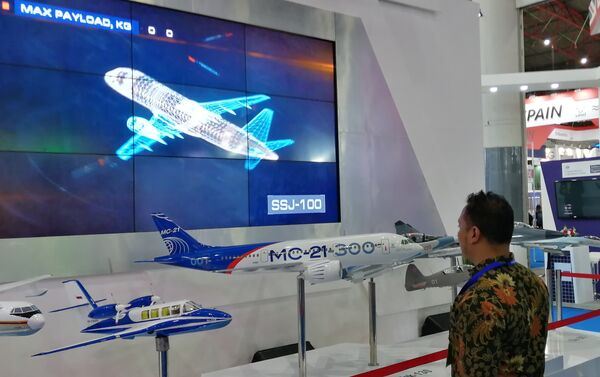 © Sputnik / Bolotsky Denis
© Sputnik / Bolotsky Denis
IndoDefence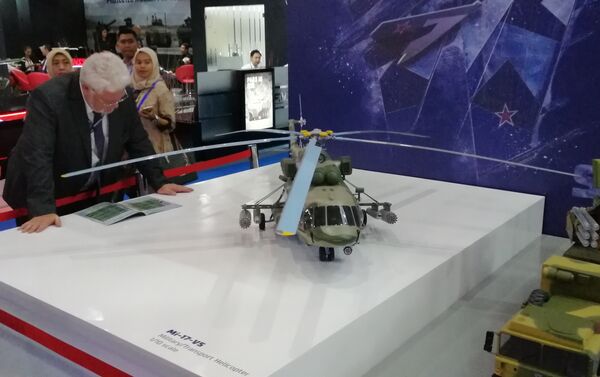 © Sputnik / Bolotsky Denis
© Sputnik / Bolotsky Denis
IndoDefence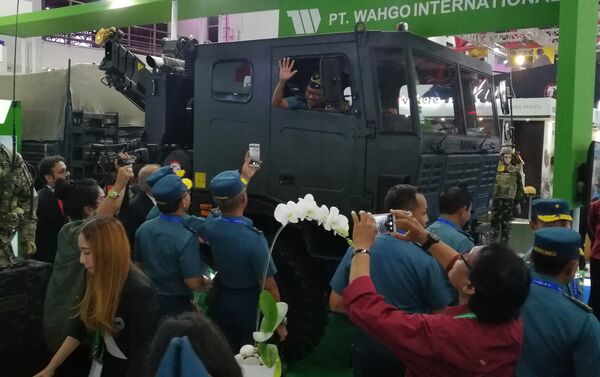 © Sputnik / Bolotsky Denis
© Sputnik / Bolotsky Denis
IndoDefence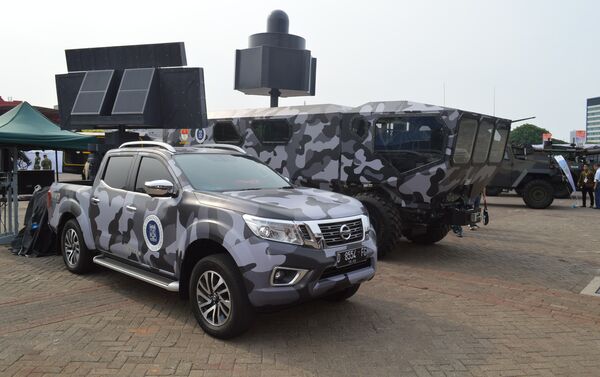 © Sputnik / Bolotsky Denis
© Sputnik / Bolotsky Denis
IndoDefence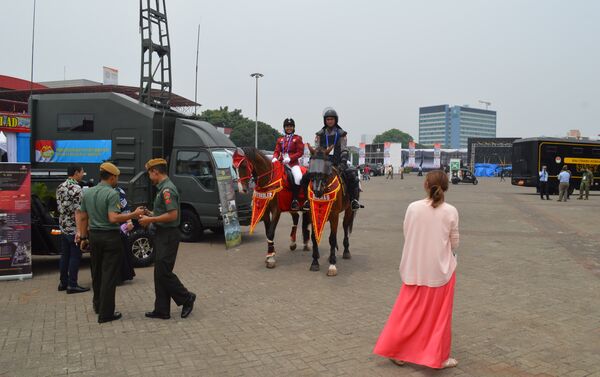 © Sputnik / Bolotsky Denis
© Sputnik / Bolotsky Denis
© Sputnik / Bolotsky Denis
© Sputnik / Bolotsky Denis
© Sputnik / Bolotsky Denis
© Sputnik / Bolotsky Denis
© Sputnik / Bolotsky Denis
© Sputnik / Bolotsky Denis
© Sputnik / Bolotsky Denis
© Sputnik / Bolotsky Denis
© Sputnik / Bolotsky Denis
© Sputnik / Bolotsky Denis
© Sputnik / Bolotsky Denis
© Sputnik / Bolotsky Denis
© Sputnik / Bolotsky Denis