"We just had a mission into Rukban; it was a horrible situation," Awad said on Thursday after UN humanitarian workers delivered aid to the camp for the first time since January. "People did not receive aid for the last four years. I mean receive aid in substantive manner. Of course, they were receiving cross-border aid from Jordan but it wasn't enough."
Moreover, the Rukban refugee camp houses terrorists, smugglers and traffickers who use innocent people as human shields, Awad sressed. Sputnik.
"There are terrorists [in Rukban], there are people who are holding people against their will, there are smugglers, traffickers," Awad said on the sidelines of an event in Washington on Thursday. "Not everybody is innocent but of course there are the innocent people who are held against their will to be a human shield. They are deprived of basic services."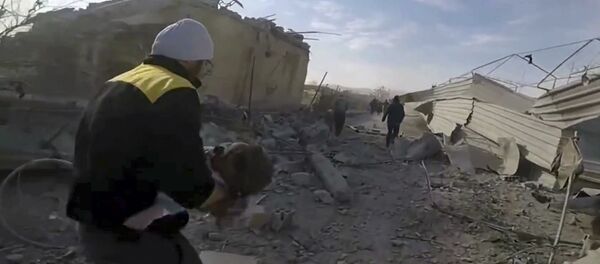 2 November 2018, 15:56 GMT
"You have traders who choose to sit at the shadow of that border to hold other people against their will, to trade in people," he explained. "So, it's not a totally humanitarian situation like we see in other places. It's very very complex."
The Rukban refugee camp lies inside a US-controlled near At-Tanf in southern Syria. The US-led Coalition in a press release on Thursday said UN aid workers successfully delivered aid to the camp for the first time since January.
Awad said the delivery of badly needed aid was only the first step toward a more permanent solution. "I think the problem of Rukban today is not to continue to give aid, it's to really liquidate the situation and send people back to their homes," Awad said. "The solution has to be found for all these people. They cannot be sitting in that place and we are providing assistance. We have to find for each group, for each person a solution."
READ MORE: Over 4,500 Artifacts From Raqqa Museum Stolen by Terrorists – Syrian Official
Awad said that as of now, UN humanitarian workers do not know when they will be able to send another humanitarian convoy to the camp. "I am not sure because we just finished the first convoy and it's very difficult to say when the next one is going to be," he said.
The Russian Defense Ministry's Center for Syrian Reconciliation said on Saturday that Russian military police had ensured the safety of the UN humanitarian convoy as it moved from Damascus to the Rukban camp. On Friday, US Central Command alleged that Russia had refused to support the delivery of humanitarian assistance to the encampment.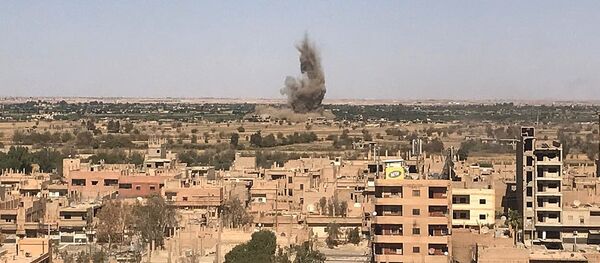 7 October 2018, 14:12 GMT
Over 100 vehicles reached the camp near the Jordan border on Saturday and delivered 450 tonnes of food, medicine and other necessities. The delivery was initially scheduled to reach the camp on October 27, but was postponed over security concerns
Meanwhile, the United Nations described the situation at the reopened border between Syria and Jordan as very good and hopes to see refugees start crossing it in the future.
"Very good," Awad said when asked about the situation on the border on Thursday. "We are using that border now for delivery of assistance, for moving of our staff between Jordan and Syria… I haven't seen refugees crossing that border yet but that we'll have in the future hopefully."
READ MORE: Syrian Foreign Minister: Terrorists With Heavy Weaponry Remain in Idlib
The Nassib checkpoint on the Syrian-Jordanian border was reopened in October for civilians and transit transport, an official told Sputnik.