As the Syrian armed forces steadily regain control over their country's territory, an offensive has been launched against the remnants of Daesh in the Safa Volcanic Field in southern Syria.
The offensive became possible after Syrian forces freed 19 civilians that Daesh terrorists at Safa had used as their "last bargaining chip," Al-Masdar News reports.
"For months, Daesh has used these hostages to leverage the Syrian military to halt their operations in the Al-Safa region of southern Syria," the report stated.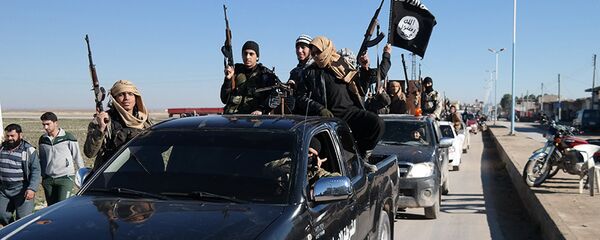 6 November 2018, 19:01 GMT
The hostages had been held in captivity since July 25, when terrorists raided the Druze-majority city of Suwayda and neighbouring villages, killing more than 250 civilians, according to PressTV.
Now, without those hostages in their grasp, Daesh has nothing to hide behind. As Daesh kept bargaining back and forth (a threat to execute hostages actually prompted a liberation operation), Syrian forces were conducting a military build-up in the region. According to Al-Masdar News, the Syrian Arab Army's 4th Armoured Division is now fully deployed at Safa, which likely indicates the government is no longer interested in negotiations.
According to the website Syria.liveuamap.com, the assault on Daesh started Thursday, after a pre-emptive bombardment. Some 1,500 fighters are estimated to be holed up in the volcanic field.
Safa is one of three remaining Daesh-controlled strongholds in Syria. Another is a rather small strip north of the Euphrates, between the town of Hajin and the Iraqi border, where the terrorists are being constantly engaged by Kurdish SDF militants. There is also a large, sparsely populated area between Hajin and Palmyra, which is also said to be under Daesh control at the moment.