"The use of new voting technologies (NVT) is extensive and varies considerably across the country, and federal and state authorities launched a number of robust initiatives to help secure election technologies, including from cyber-threats," the OSCE said in the release on Wednesday. The OSCE pointed out that voting machines without a voter-verified paper trail were used in 15 US states.
However, more investment is needed to replace aging voting equipment and maintain security, the OSCE added. The OSCE also noted that there were no signs of foreign interference in the midterm elections.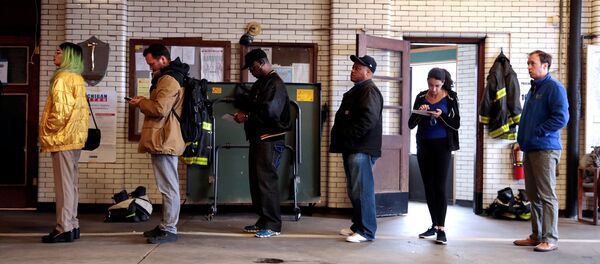 7 November 2018, 19:28 GMT
OSCE special coordinator George Tsereteli also told Sputnik that all equipment worked well during the voting.
"Observers went to different polling stations. All the machinery went well, I mean not any signs that anybody hacked something," Tsereteli said on Wednesday. "But it is one side. Another side of foreign interference is social media Facebook, Twitter, other social media outlets, and that we don't know what happened. It might come after analytical work and after the work of intelligence services, but at this moment we did not have any verified case of any type of interference."
Head of the OSCE PA delegation Isabel Santos told Sputnik that up until now, the observers did not see any evidence of foreign interference in the midterm elections.
"In all countries [the concerns about foreign interference] are legit at this moment. We understand that we are facing around the world real threats on this issue," she said.
READ MORE: 2018 US Midterms: Why Trump Says They Were a 'Tremendous Success'
Santos said authorities around the world need to be ready to respond and cooperate on issues of election security. "Cyber space is an open space without borders and threats can come from everywhere and even from single citizen. We must be prepared to invest in cybersecurity – invest in technical condition and invest in dialogue between countries to defend ourselves," Santos said.
Tsereteli noted that the mission leadership would go to the State Department, and all the governmental agencies, including the Congress and the Senate to discuss their findings and make recommendations on future midterm elections.
Meanwhile, OSCE Office for Democratic Institutions and Human Rights (ODIHR) limited election observation mission Tana de Zulueta told Sputnik that all candidates had equal access to media coverage ahead of the vote.
"We note that there are no restrictions and there are no impositions on equal access so candidates obtained time and measured with their resources," de Zulueta said. "We noted unlimited advertising that occupied a lot of air time and some of it was hostile and critical."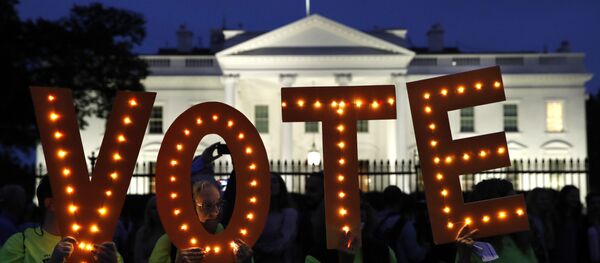 7 November 2018, 12:39 GMT
De Zulueta said the negativity was mostly confined to paid advertisements, though some news networks also made negative statements during the campaign. "These statements reflected with political sympathies of the news outlets so we had one large cable company very critical of the president and one other very supportive and very critical of the opposition," she said.
De Zulueta pointed out that cable channels were polarizing, and quite strongly partisan. She noted that although public service channels were balanced in their coverage, they were limited in their reach, with radio increasingly popular. "I think American citizens have a possibility of extremely complete information if they want," she stressed.
De Zulueta went on to say that the observers did not see much coverage about foreign interference during their observation period from October 7 through November 6.
"It was not a subject which was very much discussed except for at the time of an indictment which was issued against the treasurer of the Internet Research Agency by a prosecutor. That episode was noted, but it did not lead to much discussion. That is what our observation is, it is not a theme which occupied much attention," she noted.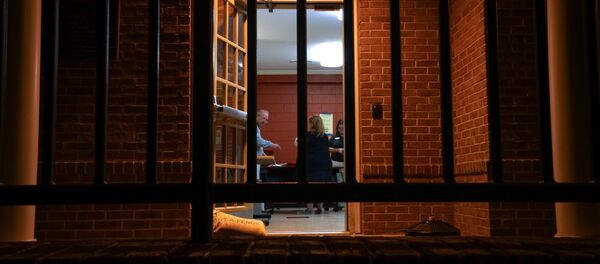 7 November 2018, 12:30 GMT
De Zulueta noted that 18 teams of observers are currently deployed in that United States and will stay in the country for one more week in order to finalize their observation of the count, consolidation of results, and any complaints that about the process.
On Tuesday, US voters chose among candidates for the 435 seats of the House of Representatives and one third of the 100-seat Senate.
Democrats took control of the House of Representatives by picking up two seats more than the 218 needed to have a majority, while the Republicans maintained control of the Senate and picked up at least two and up to four seats.