"Today, our cruise missiles have a fully-fledged airborne defense complex, because such strategic weapons must be very well protected. These [EW] systems have successfully passed all the tests and are already in mass production," Mikheev said on the sidelines of the Airshow China 2018 exhibition.
Mikheev specified that EW systems were primarily being installed on X-101 and X-102 cruise missiles carried by Russian Tu-95, Tu-160 and Tu-22M3 strategic bombers.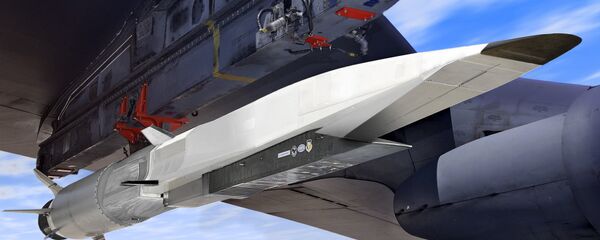 25 August 2017, 18:57 GMT
Last year, Russian President Vladimir Putin said that advanced X-101 cruise missiles, used in Syria, showed a high degree of reliability.
"Regarding the use of our weapons, including in the fight against terrorists in the Syrian Arab Republic, I would like to thank both the military and the designers of one of our state-of-the-art X-101 missile systems. This missile showed a very high degree of reliability," Putin said.
X-101 is a newest Russian air-to-ground strategic cruise missile, designed with the use of modern technologies diminishing radar visibility. The missile can be equipped with a nuclear warhead and its range amounts up to 4,500 kilometers (2,800 miles).
READ MORE: Russia Helped Prevent a 'Large-Scale NATO Cruise Missile Strike' in Syria
Russia has repeatedly used X-101 cruise missiles to attack terrorists in Syria.
Viktor Bondarev, the chairman of the Russian parliament's upper house Defense and Security Committee said earlier that X-101 air-launched strategic cruise missile are in full conformity with the START treaty's requirements.